A popular snack in every household of Karnataka is puri/mandakki/mandalu/.............Almost every district of Karnataka has christened it with their own name. Bellary and some adjacent places call them mandalu, Chitradurga, Davangere, Hosadurga,......call it Mandakki, Mysore, Mandya .......popularly known as Puri. A favorite time pass snack/teatime snack/alltime snack is kharamandakki or Crsipy Puffed Rice. There are atleast 4 different ways to make it and as I have mentioned its popularity among various districts of Karnataka every place has their own version.
Take a walk on MG road, Bangalore you can see vendors selling this crispy puffed rice. You can easily kill your hungerpangs while you are heading back home from office with a small pack of 'churumuri' made of puffed rice.
If you have studied in Karnataka and lived in hostels here you may see that a Karnataka girl would not come to hostel without a big pack of crispy puffed rice. Other popular things that goes to hostels are chatnipudi, hulianna gojju(tamarind sauce to mix with rice), nimbekaayi uppinakaayi(lemon pickle) , Chakli, Kodubale, Nippittu and many more. I can go on..n...on about hostel and stories but I think its time to share the recipe.....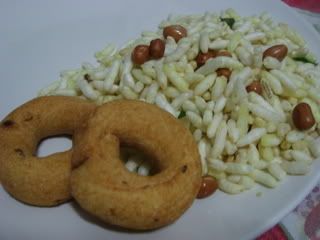 A tempting combination of puffed rice and kodubale.
A simple to make recipe for kharamandakki is .....
Ingrediants :
Puffed Rice : 200g
Green Chillies:15 or according to your spice level
Curry Leaves : 2 lines
Garlic : 5 pods (optional)
Dry Coconut : 15-20 thin sliced pieces or grated dry coconut
Peanuts : 1 big cup
Hurgadale/Pottukadalai/roasted gram dhal 1 big cup
Oil : one small cup (approx 7-8tbsp)
Turmeric, Mustard, Asafoetida
Salt
Preparation :
1. Clean puffed rice. Most of them time they contain dust
2. Chop curry leaves into thin pieces
3. Slice dry coconut into thin pieces. Alternatively you can use grated dry coconut readily available in stores.
4. If using garlic crush them in pessel n mortar
5. Slit green chillies lengthwise
6. Check salt levels of puffed rice. If it is too salty add less salt to the snack.
How to make:
Every ingrediant which goes into this recipe should be fried till they are crisp
.
Puffed rice takes up moisture if any of those ingrediants are not crisp enough.
1. Heat oil in a wide pan. Add mustard, let it crackle. When it stops crackling add garlic sautee till it becomes crisp n brown.
2. Add green chillies sautee till they are crisp.
3. Add peanuts fry till they are crisp, roasted bengal gram follows. Fry till it turns crisp n brown.
4. Add thin slices of coconut and fry them till are golden brown. Add turmeric, curry leaves. Fry till curry leaves are crisp. Finally add Asafoetida and salt and switch off the flame.
5. Add puffed rice, mix thoroughly. Remove the vessel from stove and keep it aside when you are mixing the puffed rice.
6. Allow it to cool. It becomes crisp at room temperature. Store it in airtight container.
7. Enjoy Madi!!!!!
Rava Kodubale or Semolina (Rava) Rings??
'Semolina hornbangles' is the exact translation of Rava Kodubale word by word! But doesn't that sound wierd? horn bangles? so I made it simple and blogged them as rava rings like onion rings/fries?? of KFC! There is sky and earth difference between onion rings and rava rings.
These rava rings or hornbangles are tasty and a good tea time accompaniment.

Ingrediants:
Chiroti Rava/Fine Semolina: 1 cup
Rice Flour:1tbsp
Warm oil: 2tbsp
Green chilli paste:1tbsp
Soda bicarb: 2tsp
Salt
Oil for deep frying.

How to make:Mix all the above ingrediants with water and knead to make a dough. Dough consistency should be medium. Chapathi dough consistency would do. Take lemon sized ball of the dough and roll them to make 5' sticks. Join the ends and press gently to lock the edges. Deep fry in oil till golden brown. Remove on a kitchen towel and serve when they are at room temperature. Hot kodubale is soft they turn crispy when they cool down. Store in a airtight container.
This is my contribution to WYF snacks hosted by Hima of
Snackorama
. Hima I have more snacks to blog so will email you all at once. Also it goes to RCI-K.