A simple remedy to upset stomach is cuminised lime juice. There are a number of medicinal properties of Cumin, one among them is to cure upset stomach.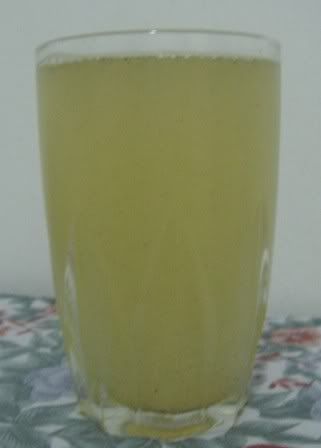 Ingrediants:
Lemon Juice: 2 tbsp
Jeera : 1 tbsp
Pepper Powder: 1/2 tsp
Ginger grated: 1/2 tsp
Water: 1 big glass (300ml)
Salt
Prep Work: Coarsley grind cumin and salt in a pessel and mortar. Grate ginger.
Take jeera, slat, ginger in 300ml water and mix thoroughly. Keep it aside for 10mins. Filter the water to get cuminised water or you can use it as such with cumin.
How to make it:
Add lemon juice and pepper to cuminised water and mix thorougly. Adjust salt to your taste and serve/drink immediately.
To make cuminised buttermilk:
Jeera : 1 tbsp
Greenchilli: 1 small
coriander leaves: 3 lines
Grated ginger: 1 tabsp
Asafoetida: 1 pinch
Salt
How to make:
Blend the above ingrediants in a blender and store in the fridge. It can stay for a month if stored in airtight container in the refrigerator.
Take one spoonfull of the mixture and mix it with 300ml buttermilk. Set it aside for 15 mins before it can be consumed. You can choose to filter it or drink it as such.
This is my entry to
Sunita's
spice event 'Think Spice Think Cumin'