A tasty pickle which will be ready under 30 mins .....
All you need is.........
Raw Green Mango : 2 (peel and grate)
Pickle Powder
: 2 tsp (click and follow the link for the recipe)
Salt and jaggery (bella, vellam, gur/gud, bellam...)
Oggarane/Seasoning
Sesame Oil : 2 tbsp
Mustard seeds, hing/asafoetida, turmeric powder, garlic -2 pods chopped into fine pieces, curry leaves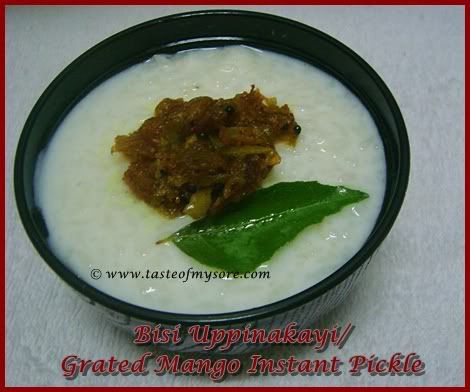 Method:
Heat Oil in a thick bottomed pan. Add seasoning ingredients in the order mentioned. Brown the garlic before you add curry leaves.
Add grated mango and sautee till mango softens and gets cooked. Add pickle powder, salt and jaggery and mix well. Cook for another 5 mins till the contents gets mixed and oil separates from the mixture.
Shelf Life:
This pickle stays good for 5 days when kept outside. Refrigerated pickle stays good for 3 weeks or more.