This is one of my reader's request. Here you go with the recipe of Akki Happala/Sun Dried Rice Flour Crispies.
You need the following to make them :
Rice Flour : 2 cups
Sago Powder : 1 tbsp (Sago = sabudana, pearl tapioca, sabbakki, sabbeemu )
Green Chilli paste : 1tsp
Sourd Curd : 1 cup
Salt to taste (If chili paste has salt in it, I advise you to use salt carefully)
Dilute sour curd with 1 cup of water. Add salt, chilli paste and Flours. Mix and let it stand overnight. Add more water if required. The batter should be of the consistency of Idli batter.
Next morning make idlis out of the batter.
Do not take out the all idlis from the plates. Take one idli at a time and let the rest stay in the cooker.
Divide 1 idli into 4 equal pieces. Oil your hands and make small balls out of each divided piece and press it down to make disc or roll it down between two sheets of non stick paper/polythene.
Arrange these discs on a thin cloth under hot sun and let them dry.
It takes about 2 - 3 days for these discs to dry completely.
Once dried store them in a airtight container.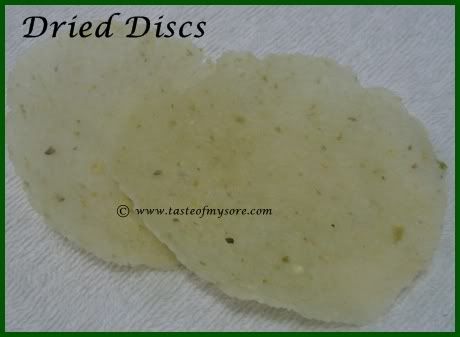 To make Happala
:
You need sundried discs
Oil
heat oil in a thick pan. When oil is sufficiently hot slowly drop in discs one after the other.Deep fry till they are crisp. Drain them on a tissue paper.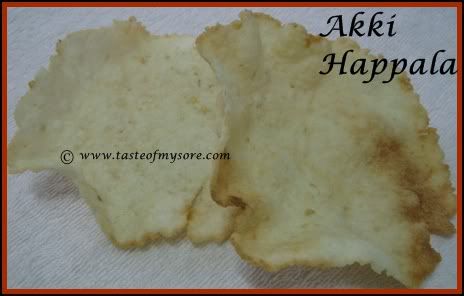 Enjoy it with a cup of hot tea/coffee or with hot rice and sambar :D