A very tasty and filling parathas for your lunch box.
Ingredients :
For Prathas :
Whole Wheat flour : 2 cups
Salt: 1/4 tsp
Water sufficient to make a tight dough. Mix the above ingredients to make stiff dough.
For filling :
Chanadal/deskinned, split chickpeas- 1/2 cup (1 cup=100ml of water)
Garlic: 1 piece( not the whole round of garlic just 1 pod)
Redchillies : 1 or 2
Cumin/Jeera : 1/2 tsp
salt
oil : 1/2 tsp
Soak chanadal for 3 hrs and pressure cook to make it soft. Drain water and keep dhal aside till it cools down.
Take cooked dhal, garlic, chillies, cumin and salt in a blender and blend to make coarse paste. Do not use water.
Heat oil in a thick bottomed pan and add the ground coarse paste of dhal and fry till water in the mixture dries away. Switch off the stove and make small balls of this mixture.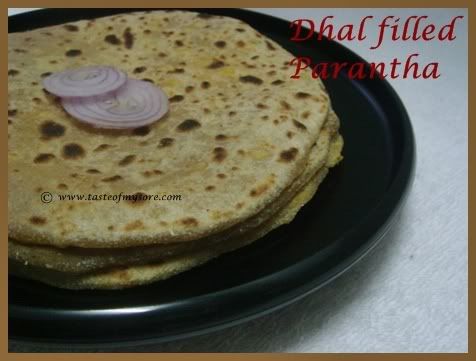 Take a pingpong sized whole wheat flour dough and roll into a circle of 5 cm diameter. Place the filling in the center and cover/lock the edges to the flour to make a ball again with stuffing in the center. Press down the ball and dip in little dry wheat flour and roll into 6 -8 cm diameter circle. Fry paratha on a hot girdle using oil.
Serve hot with any accompaniment of your choice.