Probably this is one simple dish that everyone loves to eat. It goes well with chapathi and rice.
Ingredients: (sufficient for 2 people)
Potato : 3 numbers
Oil : 2-3 tbsp
Turmeric : 1 pinch
Mustard : 1/4 tsp
To make powder:
Cumin: 1tsp
Redchilli Powder: 1tsp
Garlic: 1 (optional, I have used in the recipe)
Dry grated coconut: 1 tbsp(optional, I have used in the recipe)
salt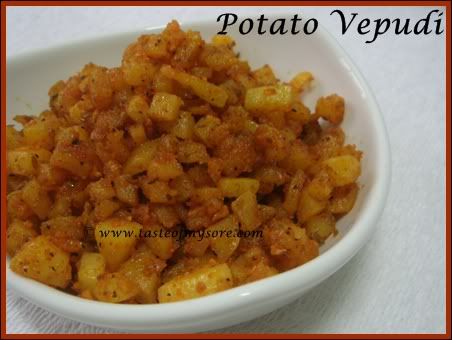 1. Make coarse powder of the ingredients mentioned under that category.Keep it aside.
2. Peel and chop potatoes into small cubes. Soak them in water to prevent discoloration of potatoes. Before adding it to hot oil
drain water
and then add potatoes.
3. Heat oil in a wide pan. Add mustard and wait till it stops popping. Add turmeric.
4. Add chopped potatoes and fry it in oil till they turn soft and crisp.
5. Add powdered chilli cumin powder and mix. Stir and fry for next 2 mins till the powder is well mixed and fried.
6. Remove and serve hot with chapathi or rice.