An eazy breezy breakfast item is Puffed Rice Poha. Tastes good and filling too. Here is how I make it: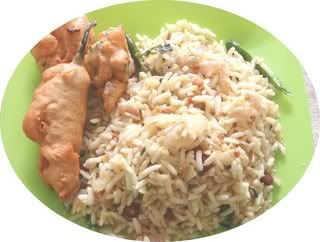 Ingrediants:
Puffed Rice : 1 pack (200g)
Onions: 1 big finely chopped length wise
Green Chillies : 5 cut length wise
Coriander leaves and grated coconut for granishing
Lemon Juice from 1 lemon
Tadka:
Oil : 3 tbsp
Mustard
Peanuts - 1tbsp
Chanadal and Urad dal each 1 tsp
Curry Leaves
Turmeric- 1tsp
Preperation:
Soak puffed rice in water for about 20 mins. Remove water from puffed rice by pressing them. Hold a handfull of puffed rice and squeeze the water out. Take care not to mash them. Keep them aside.
How to make it:
1. Heat oil in a pan, add tadka ingrediants in the order mentioned. Let the peanuts and dals turn golden brown. add curry leaves and turmeric.
2. Add green chillies chopped lengthwise and onions follows. Fry the onions till they turn transcluscent and soft.
3. Add puffed rice and salt as required and mix the contents well till the puffed rice is sufficiantly hot. Switch off the flame and add lemon juice and mix again. Keep the pan closed for about 5-6mins. Garnish with coriander and coconut before you serve
4. I like to eat this with Mirchi bhajiyas and pakoda. It made a good weekend brunch for us.