My lovely sis made these pakodas when I visited Mysore recently. I loved them so much that I tried them in Singapore. Results were fantastic. I made them twice on popular demand and the demand is still on :-) Here is how I made those mouthwatering pakoda's which was served with coffee and continued serving another batch for dinner tooo... ;-)

All you need to make pakoda mix :

Fine Semolina (cream of wheat) /Chiroti Rava : 2 cups
Cornflour : 2tbsp
Onion : 1 big
Curry leaves : 3 lines
Coriander leaves : 4lines
Green Chilli : 2
Red Chilli Powder : 1tbsp
Baking Soda(soda bi carb) : 1/2 tsp
Salt to taste
Oil for deep frying pakodas

Preparation:

1. Cut onions lengthwise.
2. Chop green chillies into thin rounds
3. Chop coriander finely.
4. Chop curry leaves coasely

How to make:

1.Mix all ingrediants except baking soda and keep it aside for 20mins.
2.Heat oil in a thick bottomed pan on medium flame till it is sufficiantly hot to deep fry. 3. When the oil is getting hot, add soda bi carb to pakoda mix and mix well. Add water and make pakoda batter. (Batter consistency= loose or should resemble dosa batter)
4. Use wet hands to pour this batter into hot oil. spread the batter while pouring batter into the oil to get irregular shaped pakodas. I like it this way. Alternatively you can spoon the batter into oil to get a more appealing shape. Irregular shapes expose onions to the surface (gives good aroma and crispy onions) and also pakodas becomes thin and crisp. Fry them till brown or your desired color. I like them golden brown. It takes 3-4 mins for each batch to get fried. These pakodas are best eaten while they are hot. You can serve with chutney or sauce. A cup of coffee should not be forgotten to achieve best results. ;-)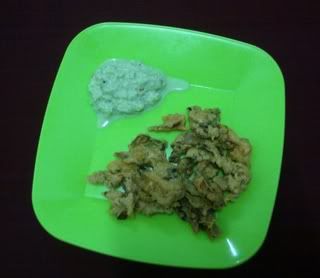 Gave a try to few more dishes from fellow bloggers :
1. Dosakaya Pachhadi from
Padma's Kitchen
. It was good to eat with rice.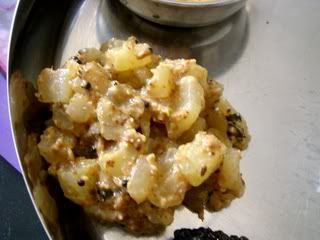 Our Week end lunch with dosakaya pachadi, bendekayi (Okra) sambhar, kothambari (coriander leaves) pickle and ghee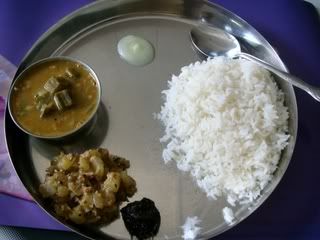 A closer look at bendekayi (Okra) sambhar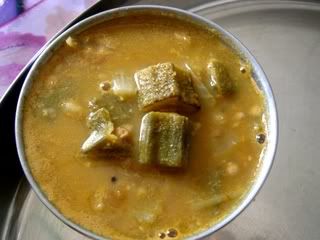 2. Also tried Raagi Halwa from Chandrika's blog @
Akshayapatra
Photos will be uploaded soon. It was tasty.
Will update few more recipes that I tried with pics in next post.