When my hubby wears Chef's hat, he loves to prepare tangy rice. He is glued to the taste of this dish/rice from many years and also an emotional attachment with the dish coz it is 'amma' made. I am sure lots of us have this sentiment. This is posted on behalf of my not-so-regular chef at home. Try it to know its taste.... Here you go with the recipe:

Ingredients:
Rice - 1cup (any variety except basmati)
Onion -1 big (Chopped into medium sized pieces)
Tamarind Paste/juice - 3tbsp
Bella/Jaggery - to adjust the taste
Sambar Powder - 1tbsp (home made preffered, adjust according to your taste)
Salt
Water to cook Rice
Tampering Ingredients :
Oil - 3tsp
Mustard Seeds -1tsp
Kadalekaalu/Kaala Chana - 1tbsp
Kadalebele/Chanadal -1tsp (optional)
Uddinabele/Uraddal-1tsp
Curry Leaves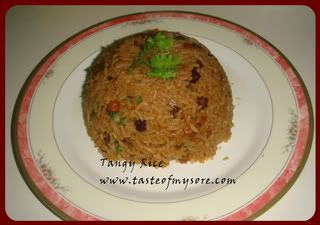 This is a one pot meal so, you can prepare this directly in the cooker.
Heat
the cooker pan, add oil. Do tampering according to the order of ingredients mentioned above. Note : fry kalachana for few seconds till it becomes crisp, dals should turn golden brown.
Add
Chooped onions, sautéed till they are translucent. Sambar powder, tamarind juice, salt goes next into the pan. Water goes next. Bring it to boil on high flame. Taste the water, adjust flavors accordingly using jaggery/salt etc.
Fry
Rice in a wide skillet till it is slightly bowned, and let it cool.
Wash it.
Add it into the boiling water. Cover the lid of the cooker and cook in medium flame for 3 whistles. Frying the rice makes the rice grains fall apart.
Garnish
with coriander leaves and enjoy the tangy n spicy rice hotttt...
'CLICK'- METAL
I have never been able to submit any photos in time for CLICK or I must say I lack creativity while I take pictures. I am sending my lamp under the name 'Nanda Deepa' which means a lamp which gives light 24*7, 365 days nonstop. Usually ever house has a lamp which they worship, here is our lamp for '
CLICK'-Metal
event.