A month dedicated to RCI-Karanataka. All dishes that will be posted this month on TOM will be for RCI-Karnataka. Enjoy recipes from the land of Kaveri!.
Yet another finger licking breakfast from my grandmother. We call it 'ಬಿಳೀ ಹೋಳಿಗೆ' in Kannada which translates to White puran poli! ; here poli is white because 'puran' or the filling is white in color. The filling is made from rice flour and then rolled them off like normal polis. It is relished with chutney and palya (potato curry).



Ingrediants for Puran/filling: (makes 6-8 polis)



Rice flour : 2 cups

Water: 4 cups

salt



Ingrediants for the skin/outer cover layer



Chiroti Rava : 2 cups

salt

Water

oil (I prefer to use Sunflower oil. Any oil that is in use at home for day to day cooking can be used)



Most of you know to make Chutney and Potato Palya so I will not be blogging them.



How to make it:



1. Mix Chiroti rava and salt. Add enough water to make a dough. Dough should be soft like chapathi dough. Pour some oil and knead again till some of the oil is taken in by dough. Pour extra oil on the dough cover it with a lid and leave it aside for 30 mins.
Chiroti rava looks like this.........
2. Bring 4 cups of water to boil with salt. When water starts boiling add rice flour and let it boil for 7 mins on low flame.
3. Switch off the stove after 7 mins and mix riceflour and water thoroughly. At this stage you can see lumps when you mix it. Do not panic. Cover the vessel with a lid and leave it aside till the mix cools down.
4. Take the warm rice flour mix in a polythene and knead the mix to make a soft lumpless dough.
6. Take a lemon sized chiroti rava dough and spread them using fingers. The dough is stretchable so there would be any problem while doing this.
7. Place one rice flour ball and fold in the skin as shown in the picture.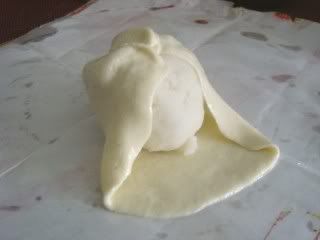 8. Apply some oil on the closed ball and press it gently to make it flat.
9. Roll them off with a rolling ping pin like chapathis/polis on a laminated paper. Smear oil to the rolling pin to roll them easily.
10. Place the rolled poli on the hot tava with the paper as shown in the pic. Take the paper away and use it for next poli.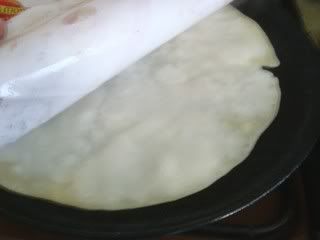 11. Fry it on both sides and serve with chutney and Potato Palya/sabji
12. You can make masala poli like masala dosa too...like this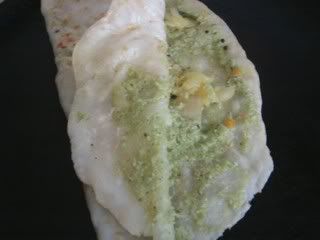 13. Eat and Enjoy!!!! :-)
14. Forgot to post this picture :(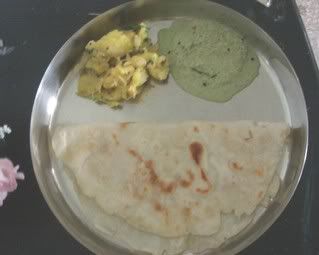 Check out other authentic Karnataka cuisine on my blog too. To name a few
Akki Rotti
,
Chitrana
,
Badanekayi bajji
,
RiceFlour Pooris
,
Mysore Bonda
,
Hurulimalake Huli
,
Hurgalu
.
Happy Cooking for RCI-K.