Avalakki/Poha/Pressed Rice was kuchela's gift to Lord Krishna. It is said that avalakki is one of the favorites for Lord Krishna. Though I did not prepare it as prasadam to Lord Krishna but the occassion was just perfect to make some sweet and savory for my little krishna at home who loves to eat such things.
Avalakki/Poha Laddu

Avalakki/Poha - 1 cup
Grated Dry Coconut - 1 cup
Sugar-3/4 cup or 1 cup depending on the sweetness
Ghee - 1 cup
Microwave 1 cup poha on medium high for 4 min. It looks like this when you remove from microwave.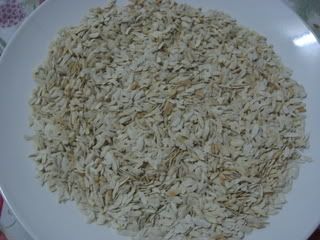 Allow it to cool. Take the poha, sugar and grated dry coconut in a blender and blend till it you get a coarse powder. The grains should like crystals of sugar. Remove the powder to a plate and add hot ghee to it and make laddu immediately. Decorate it with dry fruits and serve. It is crunchy to eat.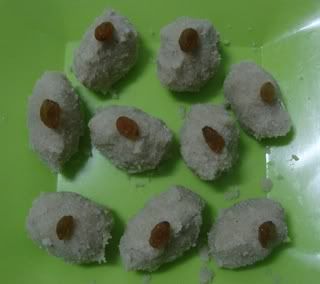 Another look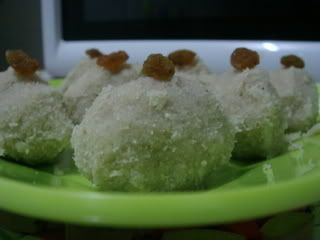 A Svory/ Snack

Avalakki puri/chiwda call it by any name it brings smiles over ones face when it is served with Tea/Coffe. Here is how I do it:
You need these to make :
Avalakki (thick variety), pottukadalai/huridakadale/roasted chana dal, peanuts, red chillies, curry leaves, a pinch turmeric and salt. You can see a deep frying gadget there in the picture which is used to fry avalakki. Oil for deep frying.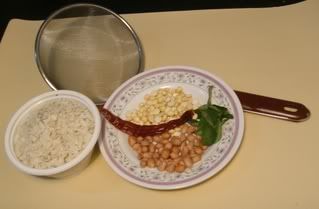 Heal oil in wide pan over medium flame. When oil is sufficiantly hot take a fistfull of avalakki in the frying gadget and dip it in the oil for 30seconds. You get crispy avalakki. Remove the crispy poha on a kitchen Towel/tissue paper.
Follow the same step till you finish all poha. Fry peanuts, roasted chanadal, chillli, curry leaves in the same way.
Take avalakki, peanuts, chanadal in a bowl. In a pessel and mortar take fried redchilli, salt and turmeric crush to a very coarse powder. Mix it with avalakki and toss all the ingrediants well. Finally add fried curry leaves and serve fresh.