Sago Popcorn is something you just cannot stop poping..They are light, crisp and slightly salted and needs no make over!! What else does a mommy need to please her naughty, fussy toddler? My son absolutely loves it for its color and taste. You can find them (raw material) in Indian Stores. I bought them from India, so you all might wanna check them when you visit India. My mom-in-law gave me a big pack of raw material which I never thought would be so useful to lure my son! I am indeed thankful to her :)
If you are a southindian and have attended marriages you might have seen them at weddings! They are served after lunch/main meal.. :D like khara boondi, khara mandakki etc..All others can try them at home and experiance the taste of it. Here is how the raw material looks like: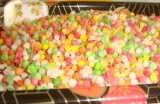 Heat a heavy bottomed pan on medium flame. Add a handfull of sago into it. Keep stirring to avoid sticking of sago to the pan. You can use a teaspoonful of oil for first batch. You can see sago poping up. Continue stirring till all of them have poped up. Remove it into a plate. You can serve it as it is coz it is slightly salted. If you want to do make over you can add roasted peanuts, red chilli powder and grated dry coconut, toss and mix to serve. Here you go with the picture of finished product: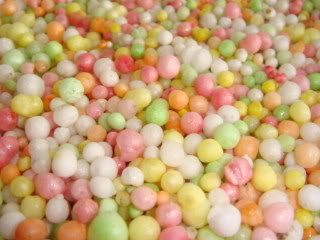 Now, aren't they tempting..low calorie healthy snack for your little one? Enjoyyy!!