Pressed Rice can be prepared in many ways. Being a wife of a chemist, I thought of naming the 'other' ways of making them as isotopic preparations. In Chemistry an isotope means "Atoms of the same element can have different numbers of neutrons; the different possible versions of each element" , why not apply this to our avalakki/pressed rice preparations? :D
Mom prepared atleast 4 varieties of avalakki, so I had enough reasons to call them isotopes. ;) One of the tastiest isotopic preparation is 'Gojju Avalakki'.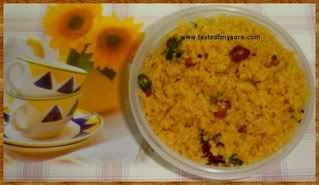 A favorite and easy to make breakfast. Here is how you can make tasty gojju avalakki for yourself :
Ingrediants:
Rice Flakes/Pressed Rice/Avalakki/Avval - 1 big cup
Tamarind Juice - 2 tbsp
Turmeric - 1/2tsp
Sambar Powder : 1tbsp
Salt
Oil - 1tbsp
Mustard - 1 tsp
Peanuts : a handful
Curry Leaves
Hing-1 big pinch
How to make it:
Take Avalakki in a blender and powder it. It should take 30 sec to powder pressed rice and not more than that. Powdered avalakki looks like semolina at this stage.
Take pressed rice semolina in a big bowl and wash it with water. Add little water to avval, tamarind juice, turmeric, sambar powder, salt and mix.
Keep it aside for about 7 mins. Mix the contents again.
Heat oil in a pan, add mustard seeds and let it splutter.
Add peanuts, fry them till they turn red. Add curry leaves and a pinch of hing.
Switch off the stove and add soaked Avalakki mix. Mix well.
Warm it up and garnish with grated wet coconut and coriander. Serve it with a cup of hot coffee.