'No Milk' 'No Yogurt' 'No coconut' there were many on 'No' list. Nope..I am not talking about Veda's Challenge event..I am recovering from food infection :( . Doctor gave me a list of 'No' eating foods and said "please do yourself a favor" don't eat these foods for next few days till your intestine recovers :( Stay on clear soups! CLEAR SOUPS! for how many days ....? there came a calm answer 'as many days as your intestine takes to recover' :) gosh!!! was my response to myself :( My troubled stomach groaned for food..no coffee too....I ran my hand over my stomach and said to it :P Well, I was pondering how to gulp in CLEAR SOUP.

Nimbe Saaru (patient's friend) came to my rescue! I just indulged myself drinking it added little well mashed rice to it and it was perfect. This is a 'nothing exotic' recipe but I thought of blogging to it for my future reference.

Nimbe Saaru
You need the following :
Toordal : 1tbsp
Water : 500 ml
Turmeric : 1/2 tsp
Curry Leaves : 4 leaves
Coriander Leaves : 1 tsp (chopped)
Lemon Juice from 1 lemon
Salt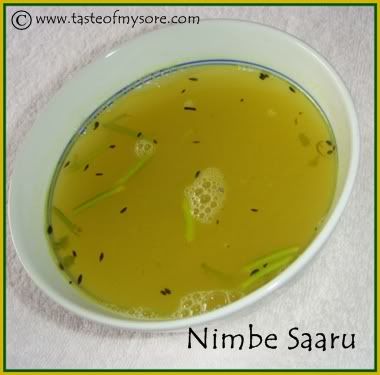 Oggarane/ Tadka
1 tsp oil, Cumin - 10-12 grains, red chillies broken - 1 small piece,
Method :
1.Pressure cook Toordal in 500 ml water with turmeric and curry leaves.
2.When the pressure is down, remove the vessel and separate the water from dal. Mash dal well with the help of a spoon. Mix dal and water.
3.Heat a tsp of oil in a pan. Add cumin, sautee and add red chilli piece mix well to coat the oil over chilli. Add dal and water mix.
4.Add salt and bring the mixture to boil. Taste the soup for salt. Switch off and add lemon juice and chopped coriander juice. Mix and let the saaru/soup sit for next 10 mins before you scoop into a bowl and gulp it down.
5. You can mash rice well and add this soup and enjoy it!!
I simply loved both the pics so have put them in.....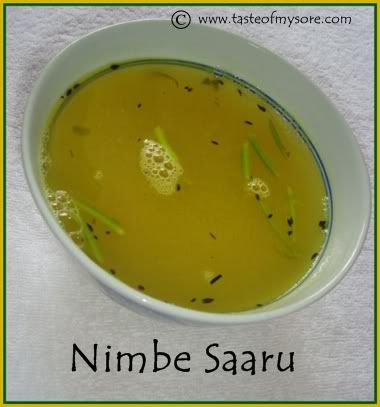 Here is my precious kitchen treasure...My Akki Rotti Pan ;) for Kitchen treasures event hosted by Dibs and Chitra at
Chitra Ammas Kitchen.
This is a cast iron pan which is specifically made for Akki Rotti. We call it banale (pan) rotti or thalipet (in Chitradurga Davangere sides..) . These pans are very thin. The picture shown below is the thickest akki rotti pan I have come accross but, I had no choice but buying it as I had no time to hunt for the thinnest one. We come from a family of traders/merchants. Oil tins were in abundance at grandmothers place. Empty oil tins were given to a shop (don't remember this specific clan name now) where they artistically made round rotti pans. They were again washed cleaned and given a bath with several changes of rice water then oiled and made rottis. Now..all these efforts were certainly fruitfull when one eats thin, crisp, rotti aaahhhaa..is all I can say in appreciation to my granny made akki rotti.
They go to Dibs for their Kitchen treasure hunt event..