We all love Rava Idli and Saagu. How about you? Our new favorite is mix veg saagu for Rava Idli :D
Last time when I posted saagu for Rava Idli, one of my reader asked me to post the recipe of Rava Idli. Here you go!
P.S : Photo of rava idli not at it's best :P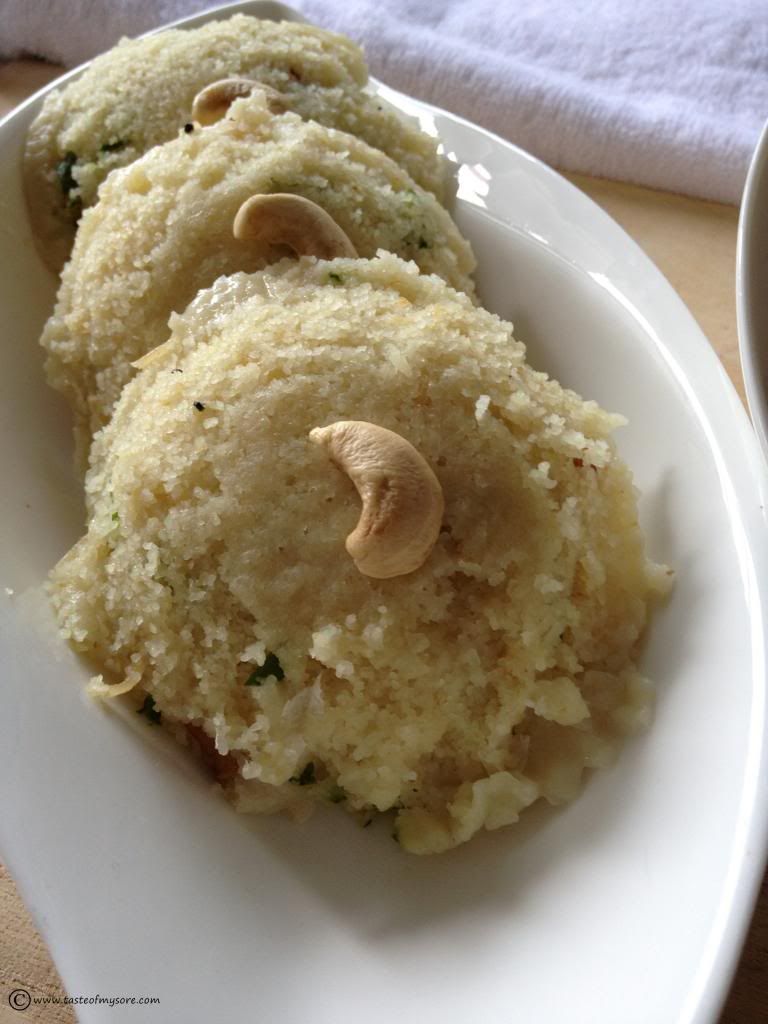 Ingredients for rava idli mix:
Chiroti Rava (fine rava) OR Upma Rava - 200g
Cashew nuts - 20
Chanadal - 1tbsp
Mustard - 1/2 tsp
Bambino Vermicilli - 2 tbsp
Curry Leaves - few (chopped finely)
Coriander Leaves - 4 tbsp (chopped finely)
Grated Coconut- 2 tbsp
Ginger grated - 1 tsp
Salt
Oil
Method: Heat oil in a non-stick pan. Add mustard and let it pop. When mustard stops poping, add chanadal. When chanadal starts to turn red add cashew nuts and wait till it turns red. Add curry leaves, coriander leaves and switch off the stove. Add in Rava (semolina, as we call in English), vermicilli, grated ginger, salt and mix well. When the mix cools down, add in grated coconut and mix.
Slurrrp...Vegetable saagu :)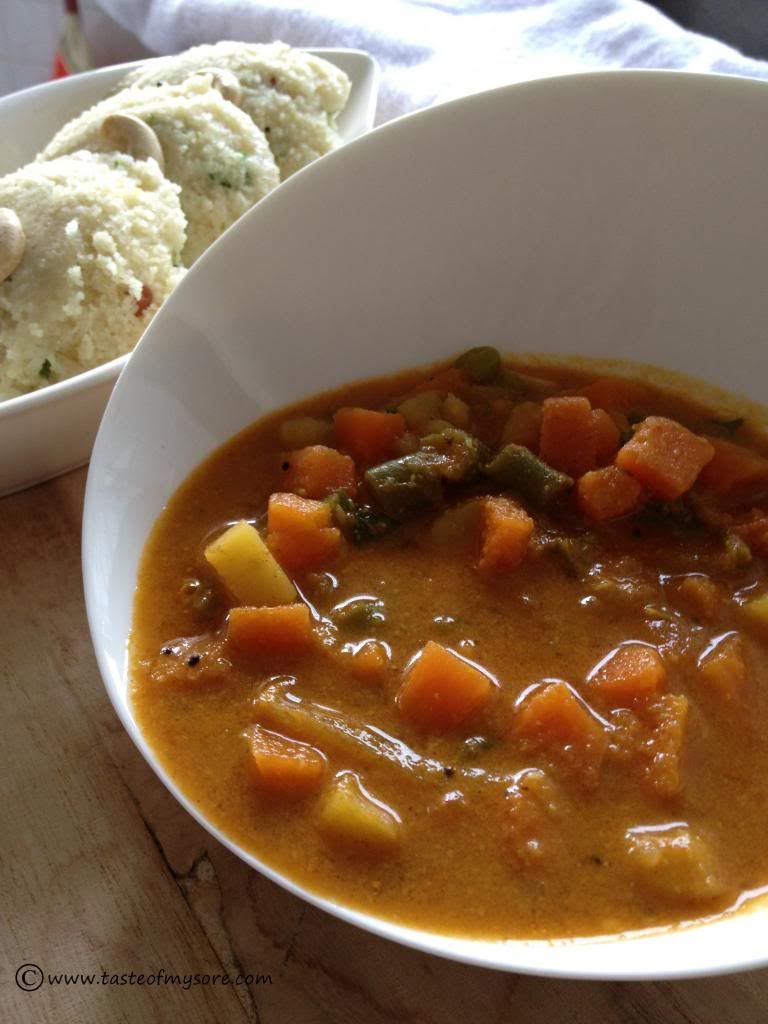 How to make Rava Idli?
Rava Idli Mix - 100g (from above recipe)
Very sour curds - 200ml (I usually let the yogurt to sit outside the refrigerator for 2 days)
Mix the both very well and let it sit for 5 mins.
Aside, you need :
Sodium Bi Carbonate or simply cooking soda - 2tsp
Between this 5 mins, you can do this:
Oil the idli moulds.
Pour water in your idli cooker and bring it to boil.
To the mixture of rava and sour yogurt add in sodium- bi- carbonate and mix well. Scoop the batter to idli moulds and steam them in Idli cooker for 10 minutes or till they are done.
Enjoy your Rava Idli with your favorite accompaniment :D