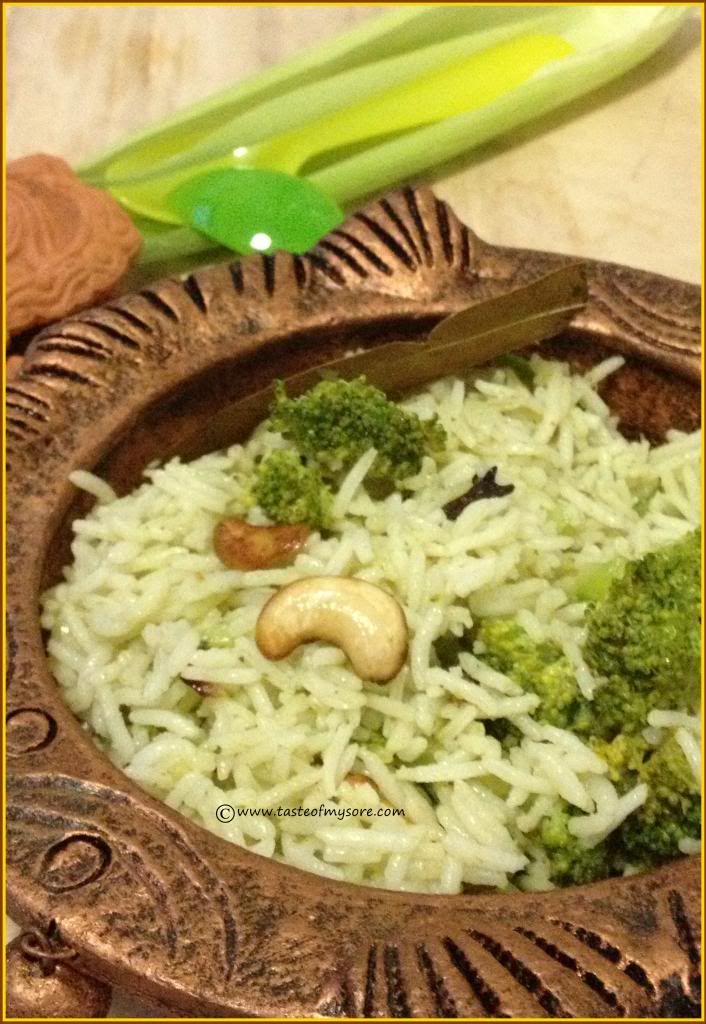 Broccoli Pulav is a tried and tested recipe. A recipe which is inspired from Green Pulav at Monsoon Spice blog of Sia. A simple and yet flavorful recipe.
Ingredients :
Broccoli : from 1 small broccoli head. (Florets and stem included)
Basmati Rice : 200g
Olive Oil : 4tbsp
Cashewnuts: 5-8 pieces
Tejpatta - 1
Cinnamon, clove, star anise, - 1 each for seasoning
Garam Masala- 1tsp
Ghee-1tsp
To grind to smooth paste:
Coriander leaves - 1small bunch
Mint Leaves - 10~15 (if available)
Green Chillies- 4~5
Ginger-1" piece
Garlic- 1 clove
Cinnamon, Clove - 1 each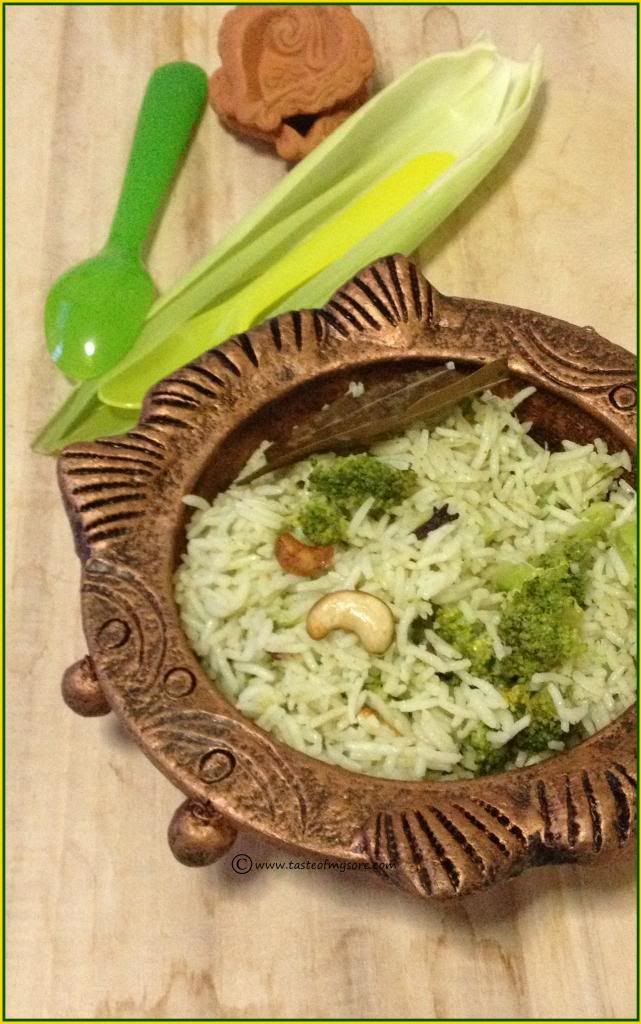 Method:
1. Cook Basmati rice, grains apart. Keep it aside. Soak rice for 10 mins before you cook it.
2. Separate broccoli florets. Cut the stem into small pieces.
3. Boil water with little salt and add separated broccoli florets and stem.
4. Let Broccoli sit in boiling water for 1 min. Switch off the stove. Leave Broccoli sit in hot water for another minute. Separate Broccoli from water. Keep it aside.
5. Grind the ingredients under'to grind' list into a smooth paste.
6. Heat Olive oil, add whole spices (cinnamon,clove and tejpatta). When you see cloves plump, add in ground paste and fry till the raw smell goes off. Add in salt, broccoli florets and mix well.
7.Nex goes cooked rice. Mix well. Switch off the stove.
8. Fry cashew nuts in ghee till they turn golden brown. Pour this over the rice and sprinkle garam masala. Mix well and serve with your favortie raita or yogurt.