Call it Thokku/Pachadi/Pickle anything, this pickle challenges your taste buds. Try it!
The recipe was inspired from Specially for Ladies blog. Scroll down for the link.
Ingredients :
Heralekai - 2
Tamarind Juice - 2tbsp
Jaggery (Palm Sugar)- 4tbsp
Onion - 1 small
Gingely Oil - 1 tbsp
Salt - As required
For Oggarane (seasoning) - Mustard seeds, curry leaves, asafoetida
To Grind
Coriander Seeds - 1tbsp
Jeera - 2tsp
Red Chillies - 8 (4 Kashmiri chillies for color + 4 Guntur chillies for hot taste)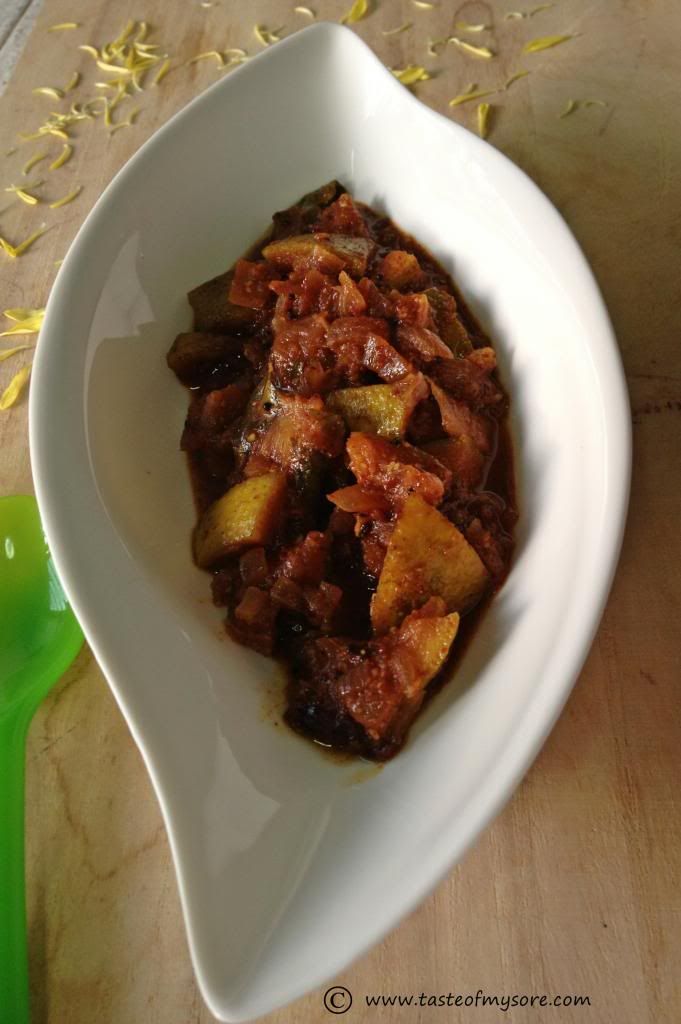 Procedure:
1. Soak salt, tamarind juice and jaggery in a bowl.
2. Cut Heralekai into 1inch square pieces and pressure cook them for 1 or 2 whistles. Do not add water to cook it.
3. Heat a tsp of oil and fry coriander seeds, jeera and red chillies till nice aroma comes. Let it cool. Grind it to make fine powder.
4. Heat a tbsp of oil in a thick bottomed pan. Add mustard seeds. When mustard stops crackling, add in curry leaves and asafoetida. Add onions and fry well.
5. Add in soaked tamarind juice mix and bring it to boil. Now, add cooked heralekai and continue to boil.
6. Quality Check! Taste and adjust salt, sourness and bitterness. Add more jaggery or salt if required.
7. Enjoy with rice!