I don't know whether it would be right to claim this dish as a signature dish of my granny who is now 80+ yrs old. But I can certainly boast that she had doctrate degree in rotti making and vadappi (riceflour poori's) making . Oh...my..our summer holidays would just fly away eating those delicious dishes made by granny. I really miss those days. Here you go with the recipe.....
Rice Flour Poori/Vadappi
Ingrediants :
Rice Flour : 2 cups
Jeera : 1tsp
Salt and luke warm water
Oil to deep fry
How to make:
1. Mix rice flour, jeera, salt with luke warm water to make a soft dough. The dough shud look like the one shown below: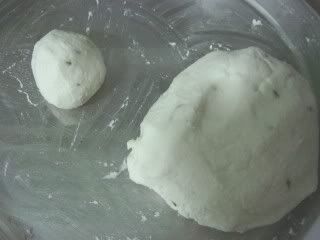 2. Take a small lemon size dough and pat them to make pooris using your hands on a plastic cover or a non-stick paper as shown below.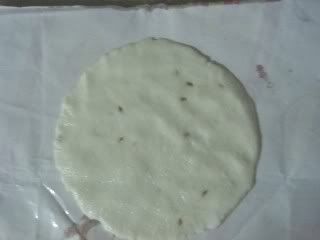 3. Take the flattened dough away from the paper and dip it into hot oil and fry till golden brown on both sides.
4. Alternatively you can pat them on your palm and dip them into the oil which yields the same results.
Chiili Gojju
Ingrediants :
Green Chilli - 10
Onion - 1 medium size, cubed
Wet Coconut - 3 tbsp
Tamarind juice : 1tbsp
Oil - 1/2tbsp
Mustard and curry leaves for tampering
For Gojju Powder:
Coriander seeds : 1tbsp roasted
Roasted gram dhal/Hurikadale/pottukadale-4bsp/one fistful
Powder the above two ingrediants and keep it ready for gojju making
How to make:
1. Wash chilli and take it in a blender along with salt and we coconut and blend it to a coarse paste.
2. Cube onions.
3. Do tampering with mustard and curry leaves. Add onion and sautee till they become transcluscent, chilli paste goes in, sautee it for 2 more mins and add water. Adjust the water level to make sufficiant amount of gojju.
4. Allow this to boil for 3 mins or till onions becomes soft.
5. Powder the gojju ingrediants and mix the powder with tamarind juice.
6. Add this paste to boiling water and stirr well.
7. Serve Hot and enjoy
A tip: Do not add too much water as the final product may turn watery. If you happen to end up with watery gojju, dont panic. Add powdered gramdhal/pottukadalai powder. Always mix the powder with water before you add to hot gojju. Adding powder directly to hot water results in lumpy endproduct.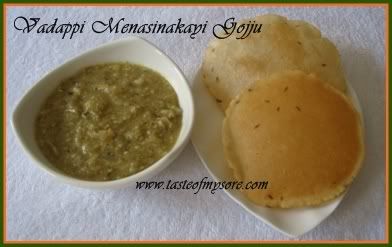 This is my entry for JFI chillies hosted by Nandita and JFI Rice hosted by Sharmi of Neivedyam.