Tambli/Tambuli is a happy marriage of chutney and yoghurt. It involves no cooking, quick to make and easy to clean. The total time is 5-7 mins. It is a perfect accompaniment with rice on a hot summer afternoon. Very popular in some parts of Karnataka. There are many ways to make it and here I have my version.

You need these to make cucumber tambuli:

Cucumber - 1 (alternatives are onion, brahmi, doddapatre soppu etc)
Coconut - 2tbsp
Green Chillies - 2
Coriander leaves - 1 line
Yoghurt - 1/2 cup
salt to taste
Tamarind - optional

Preparation :

Deskin and deseed cucumber. Cut them into small little pieces.

How to do :

Take small pieces of cucumber, coconut, greenchillies, coriander leaves and salt in a blender. Blend to a smooth paste. Water in the cucumber is sufficiant to blend them together. Add this paste to yoghurt and mix well. Serve with Rice, pickle and sundried yoghurt chillies.

Optional : You can choose to tamper it with mustard, curry leaves and asafoetida.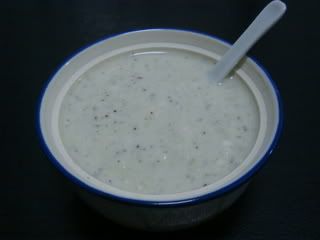 Doddapatre soppu tambli
Doddapatre soppu is a plant with many medicinal properties. I know that it is used to cure skin allergies in folk medicine. I have 2 pots full of this soppu/leaf/keerai in my balcony garden.
Ingrediants:
Doddapatre Soppu : 10 big leaves
Jeera: 1 tbsp
Coconut : 2 tbsp
Green Chillies : 2-3
Yoghurt : 1/2 cup
salt
How to make:
Roast/Fry Doddapatre Soppu in one drop oil till the leaves wilt. The same version of the soppu available in India is thicker and it irritates the tongue when eaten/used without roasting/frying. The leaves that I have at my house in Singapore does not irritate the tongue when eaten/used without frying.
Blend Doddapatre Soppu, Jeera, green chillies , salt and coconut to smooth paste using sufficiant water. Add this paste to yoghut mix well. Serve with Rice.