Asha of Foodies Hope has kindly accepted this post for RCI-K. Many thanks Ashakka.
A picture of ಅವರೆಕಾಳು/Surtipapdi, a beans loved all over Karnataka for you all. Image is taken from Vadilal's website so you can see the weight etc in the picture.
(http://www.vadilalgroup.com/surtipapdililva.html
)
ಎಳ್ಳುಅವರೆಕಾಳು/A sweet dish with Surtipapdi
Preparation Time : 15 mins A preprep work is also needed to remove beans from their shells, soak the beans and deskin them.
Cooking Time: 20 mins
Pre-preperation:
Shell the beans and soak the beans in water for 3 hrs and deskin the beans. They look like the ones in picture ones they are deskinned.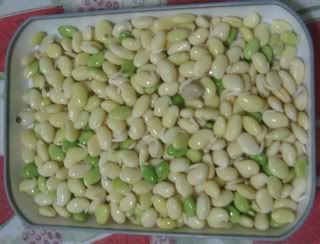 Preparation:
Boil enough water to cook the beans in a pot and add beans to boiling water and cook the beans till they are done. Strain the water and keep the beans aside. Keep the stock water, do not throw it away.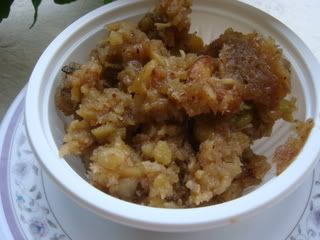 Ingrediants :
grated wet coconut : 2tblespoon
grated jaggery(gur): 5 heaped tablespoon (can adjust the qty according to taste)
deskinned beans : 1 cup (qty as seen in picture)
White Sesame Seeds : 11/2 tablespoon
Ghee : 2tablspoon
Cashewnuts for garnishing
Preparation:
1. In a hot heavy bottomed pan take sesame seeds and fry them till they turn golden brown. Remove the seeds and blend them to a fine powder and keep it aside.
A tip:
Since the sesame sesame seeds pop on a hot pan, sprinkle some water on the seeds and then fry them. This helps to keep the seeds inside the pan.
2.In the same pan take jaggery and grated wet coconut and fry them till you do not smell the aroma of wetcoconut. The final mix obtained is dry as it looses the moisture. Takes around 7 mins. It is recommended to fry the mix on a low flame.
3. Add beans to the jaggery coconut mixture, sesame powder and mix them well. You can add little beans water stock to make it moist. Allow the mixture to take some heat. Switch off the flame and let it stand in the hot pan till you serve.
4. Fry cashews in hot ghee and pour it over the sweet dish before you scoop it to serve.
5. Eat n enjoy!!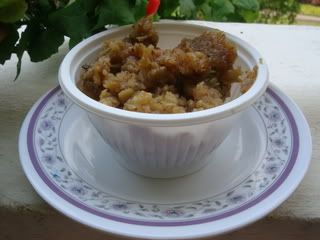 Rotti with beans/ ಅವರೆಕಾಳು ರೊಟ್ಟಿ
Ingrediants:
Rice Flour : 2 cups
Deskinned, cooked beans: 1/2 cup
Green chilli paste according to your spice levels
Onions, curryleaves, coriander leaves finely chopped according to taste
Jeera : 1 tsp
Salt to taste
How to make:
Mix all the ingrediants with water to make a dough. You should be able to make a firm ball out of the dough.
Grease the laminated paper with a teaspoon of oil. Take one orange sized dough and pat it evenly with your fingers to make a round. Pour a teaspoon of oil on the pat rotti and transfer it on a hot tava along with the paper with rotti facing tava and paper facing outside.
Remove the paper once the rotti is transferred on to the tava. Roast it on both sides. Serve with any chutney of your choice. I like to eat it with pickle ;-))