Cooking low GI food with consciousness is no easy! My brain has to constantly work in order to differentiate btw low, medium and high GI. Mixing low and medium, or mixing low and high GI food results in medium GI food stuff. So, my brain can take a break for a while and think later. :D Rice being a high GI food, always has to be mixed with few low GI vegetables/pulses to make the resulting dish a medium GI food.
A combination of rice and lentils with low GI vegetables makes a quick and tasty lunch. You can use the search box here
http://www.glycemicindex.com/
on this website to search for GI of various food stuff. You can also see GI of Uppittu here :D Uppittu has a GI of 67! Now back to the recipe, and here you go with the recipe for a medley of Rice n Lentils with Vegetables.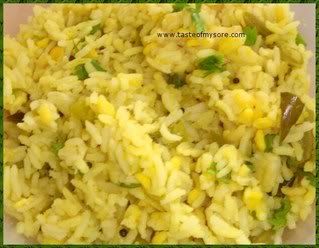 Ingrediants :
Rice : 1 cup (basmati is said to have a less GI compared to other rice)
Yeloow Lentils (split green beans) : 1 cup (Hesarubele/pongal dal)
French bean : 1/2 cup chopped into small pieces
Onion : 1 medium sized
Peas : 1/4 Cup (optional)
Green Chillies : 5 , vertically slit
Salt
Coriander leaves for garnishing
Raita:
Low-fat yoghurt : 1 small cup
Tomato : 1 small chopped into small pieces
Tamper
:
Oil, Mustard seeds, Curry Leaves and a pinch of turmeric
Method :
Roast yellow dal/lentils till they are slightly browned.
Heat a tbsp of oil in a cooker pan. When it is sufficiantly hot add mustard seeds.
Next goes curry leaves and a big pinch of turmeric.
Add green chillies and onions. Fry till they are transcluscent. Next is the turn of french beans.
Add salt, rice and lentils. Measure water according to the instructions of your rice and lentils packet. Additional half a cup of water can be added for vegetables. Check for salt.
close the cooker lid and pressure cook. After 3 whistles, you can turn off the stove.
When the pressure comes down (takes around 7-9 mins) garnish with chopped coriander leaves and pack in your box.
Add chopped tomato and salt to low fat yoghurt. Mix well and pack in a small box. Raita is ready!
The total cooking time is 30mins. Enjoy your meal!!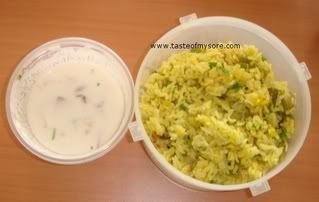 A syrian meal of rice n lentils called majadra has a GI of 24!
Check out other low GI food on TOM at