This is the last post of the year. Taste of Mysore wishes all it's readers a very happy and funfilled new year. Let's say bye to 2008 and welcome 2009, let this journey for a new year begin with a smile :)
An avarekaalu smiley for welcoming 2009 :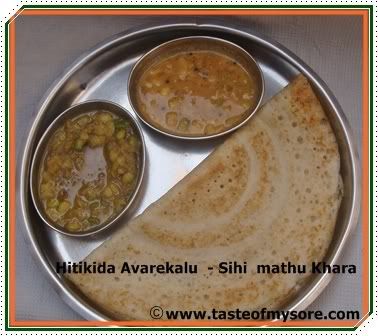 Avarekalu/
Hyacinth beans
/SurtiPapdi season is on! in Karnataka and it's raining Avarekaalu at home. From upma to sambar you can find it in all 3 meals. A crunchy snack also is made for tea time..so it is totally avarekalumaya (avarekalu everywhere). Khara (curried) Hitikida Avarekalu (de-skinned beans) is very popular and every household has it's own way of making it. Here is my mother-in-law's way of making
Hitikida Avarekalu.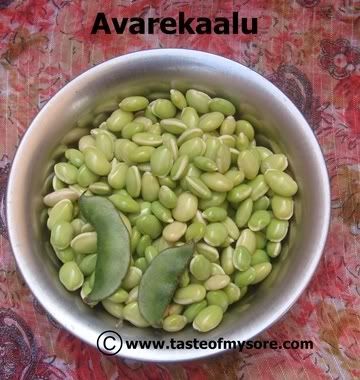 How to deskin:
Soak fresh (peeled) beans in water for 2-3 hours. Remove water from the beans and hold the bean between two fingers and de-skin it. The action is that of snapping your finger with a bean between your fingers.

Curried Deskinned Hyacinth Beans : (for 5-6 people)
You need the following :
Deskinned Beans : 200gms

To make curry paste/masala
Red Chillies : 10
Coriander seeds : 1.5 tbsp
Cumin : 2 tsp
Balck Pepper : 8
Fenugreek Seeds : 1/4 tsp
Mustard : 1/2 tsp
Garlic : 1/2 pod
Toasted Onions : 1/2
Grated Fresh Coconut : from 1/2 coconut (small coconut)
Tamarind : 1tbsp
Salt
Jaggery (optional)as per taste.

Other ingredients :
Oil : 2tsp
Onion : 1 chopped into 1" cubes
Curry leaves, turmeric powder

Method :
1.Cook deskinned beans in sufficiant water till it is soft. Beans should not be mushy.
2.Heat oil in a pan and add mustard seeds. Once it stops crackling add curry leaves, turmeric and onions. 3.Sautee till onions are soft.
4.Grind all the ingredients listed under curry paste with little water to make a smooth paste.
5.Add cooked beans, masala paste and salt. Bring it to boil. You can add jaggery if you wish. Boil the curry for next 10 mins till the beans get cooked in masala paste. Check for the correctness of salt and switch off the stove.
6.This curry is best served with dosa, akki rotti, chapathi. We love it/devour it with dosa.
Sweet Deskinned Beans/Ellu Avarekalu
You need the following :

de-skinned Beans : 2 cups (1 cup =100ml water)
Jaggery: 1.5 cups
White sesame seeds : 2 tbsp
Cardamom pod : 1
Grated Coconut: 1 cup
Ghee : 3 tbsp
Cashews and Raisins
Method:
1.Cook deskinned beans in sufficiant water till it is soft and not mushy. Beans should still hold the shape
2.Fry sesame seeds till they are fragrant and let it cool. Powder it in a mixer grinder along with a pod of cardamom.
3.Heat jaggery with 3 tbsp of water. Let jagerry water boil for about 4 mins. At this stage the syrup is thick. 4.Add cooked beans, powdered sesame seeds, grated dry coconut and 1 tbsp ghee. Mix well and bring it to boil. Let it boil for a min. Do not over boil it as beans will harden. Remove from stove and set aside.
Serve hot/cold.