We had few guests and I decided to make Paav Bhaji. It turned out very good. The recipe was from
Tarla Dalal
and Nupur of
One Hot Stove
. I refered to both pages and took good tips from both pages and went on preparing Pav Bhaji. I made Pav Bhaji Masala at home which worked out very well.
Pav Bhaji Masala Powder
:
Ingredients :
Anistar Powder - 2 tsp (anistar roasted and powdered)
Black Cardamom - 1
Black Pepper - 10
Cassia Leaf/Tej Patta - 1 leaf
Red
Chilli - 6
Cloves - 4
Balck Salt/Sanchal - 2tsp
Coriander - 2 tbsp
Cumin-1tbsp
Dry Ginger - 2tsp
Dry Mango - 2tsp
Fennel- 2tsp
Turmeric- 2tsp
Dry roasted all ingredients except turmeric and powdered it in a mixer grinder. I used 2 tbsp of the above powder in making Pav Bhaji.
Pav Bhaji
:
Green Bellpepper : 1
Carrot : 1/2
Cauliflower : 2cups of florets
Potatoes : 3 big
Peas : 1 cup
Tomatoes : 3 big
RedChillies : 4 (soaked in hot water)
Garlic : 4 pods
Butter : 1tbsp
Oil : 1tbsp
Pav Bhaji Masala : 1 to 2 tbsp
salt

Preparation
:
1.Pressure cook washed, peeled, and chopped potato, carrot, peas and cauliflower to 3 whistles. Separate cooked veggies from water and reserve the stock water.
2.Grind soaked redchillies with garlic to smooth paste.
3. Chop bell pepper into small pieces
4. Grind Tomatoes to smooth paste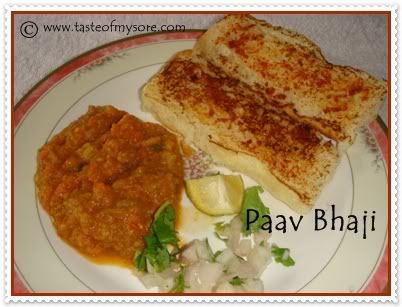 Method :
1.Heat oil in a kadhai/pan. When oil is hot add about 1 tbsp of garlic and redchilli paste. Sautee for few seconds.
2. Add 1/2 tbsp of pav bhaji masala, sautee and add tomato puree. Bring to boil. When tomato paste becomes thick like sauce add cooked vegetables. Using a potato masher mash vegetables. Mix veggies with tomato puree..add stock water as and when required. Add Pav Bhaji Masala, salt and bring the mixture to boil.
3. Taste the bhaji and adjust salt and pav bhaji masala till you get a taste required. Add a blob of butter on top and simmer it for 15-20 mins with intermittent mixing..
Assembling
Chopped Onions, Chopped Coriander Leaves, Wedges of Lemon, Pav Buns, Bhaji
The left over chilli garlic paste is generously spread on pav bun. Toasted it on hot tava using as much butter you want.
Serve Hot with Bhaji and Chopped Onions, coriander leaves and lemon wedges.
Enjoiii...