We are recovering from avarekalu mania (though not yet ended) and mango mania has started! aah..mangoes slurrp! Totapuri Mango
(

Magnifera indica)
is a must buy for us when we were in schools. The 50 paise pocket money (I think this had some value around 4 decades ago..) would be spent on buying one totapuri mango, candied watch on the wrist (strangely I could find them in front of Mysore Maharanis college during my recent trip to India, which I thought was obsolete) and if something remains ..then it would be for 'kallu batani' ..those were the days we really enjoyed them.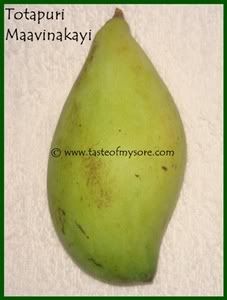 Amma made this instant pickle which used to be lipsmacking. Have it with rice (
with uddinahittu
) or as an accompaniment to your curd rice, chapathi , dosa anything almost but you must be an ardent lover of sour pickle with a hint of sweetness...and you will love this totapuri mango pickle. It is instant and can be refrigerated and preserved upto a month so with much merriment I bought them. It had a name at home 'kandurbindi' don't ask me the meaning as I don't know it either :D
You need the following to make Instant Totapuri Mango Pickle :
CAUTION
: Experiance says 'not recommended for any other variety of mango' however you can be adventurous
Totapuri Mango : 1 (1 mango yields little more than what is shown in the picture)
Oil : 6 tbsp (Gingely oil recomended, any other can be used. I used SF oil)
Mustard Seeds : 1tsp
Asafoetida/Hing : 1 big pinch
Turmeric Powder : 1 tsp
Fenugreek seeds : 4
Red Chilli powder : 2 tbsp (I used 1spoon spicy+ 1spoon less spicy varieties)
Jaggery Powder : 4 tbsp (it may require more, depends on the sourness of the mango)
Salt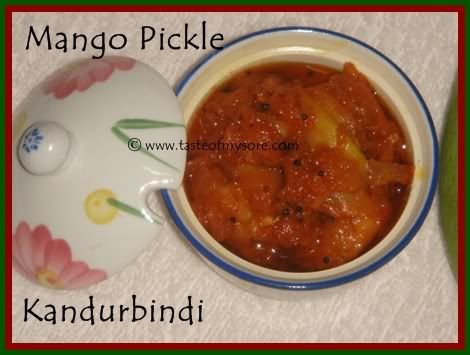 Method :
Wash, pat dry mango. Peel it and cut into irregular 1/2" *1/2" thick (half by half) pieces
Heat oil, pop mustard seeds, add asafoetida powder, fenugreek seeds. Fenugreek seeds should turn red and this happens in few seconds after this add cut mango pieces and sautee mango on low flame till mango is cooked. When you pierce a fork inside the mango, the fork enters mango easily which indicated done!
Add turmeric powder, red chilli powder, jaggery and salt.
Stir to mix and cook till oil separates. Switch off the stove and check the pickle, adjust flavors and re-heat again to mix the contents well. Take it off the stove and let it cool.
Store in your pickle container :)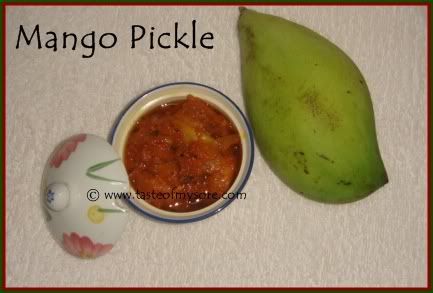 MAJA MAADI with mosaranna ;)
Sending this red pickle to
CLICK RED
event hosted by J&B of Jugalbandi