This is no party food.
Jolada Mudde
(Sorghum flour rounds, click to see recipe) and udaka are simple or comfort food. With little khara chutney (spicy chutney) your blocked senses gain more oxygen supply :D
Udaka is well mashed togaribele/split pigeon peas with little kharachutney and lemon juice. No tampering business..
.Dip hot hot joldada mudde in udaka and in khara chutney (if you dare to do it..I just show it ) and gulp it down... again no chewing please....just gulp in down! Everything should be made and eaten hot hot..so no left overs also
ಖಾರ ಚಟ್ನಿ/Spicy Chutney
Caution : Very hot chutney....
You need the following :
Green Chillies : 2 cups (washed, dried, snapped into 3 pieces and fried in a tsp of oil)
Coriander leaves : 1 cup loosely packed (washed, dried and chopped)
Garlic : 1 fistful
Cumin : 1 tsp
Lemon Juice : 3tbsp
Salt
Wash green chillies, pat them dry on a kitchen towel. Break each chili into 2-3 pieces. Heat a wok/pan and add these chillies with a tsp of oil and fry them till chillies get white blisters. Cool them and then measure.
Grind everything to a coarse paste in a mixer grinder. Store in a clean container in your refrigerator. Can be stored up to a month if refrigerated.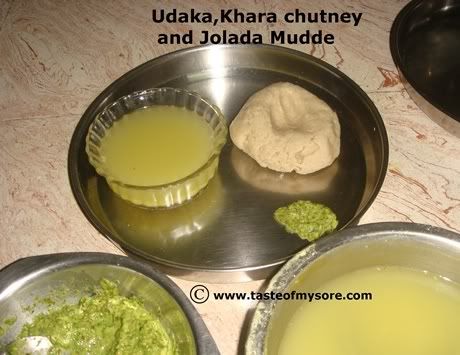 ಉದಕ /Udaka
You need the following :
Togaribele/split pigeon peas/toordal : 1/2 cup (1 cup holds 100 ml of water)
Water : 1 cup
Pressure cook with a pinch of turmeric. Remove water from the pressure cooked dal and mash it with a hand blender to make a smooth paste. Add a tsp of spicy chutney, salt and lemon juice. Mix well and dilute it with reserved dal water. You may want to adjust salt after adding water. Taste and adjust the flavors.
Best when served and eaten hot
.