Ivygourd
or Tondekayi tastes good in sambar, stirfried veggie, stuffed and also in yogurt.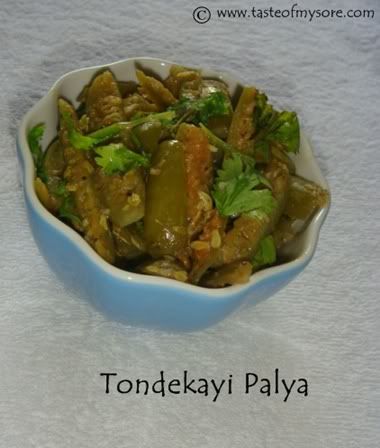 You need the following to make this vegetable :
Tondekayi/Ivygourd : 20 (washed and cut into desired shape)
Fresh wet coconut : 2 tbsp (grated)
Green Chillies OR Red Chillies : 3 (adjust acc to your taste)
Cumin : 5-10 seeds
salt
Oil -1 tsp
mustard : few seeds
urad dal
: few seeds (split deskinned urad dal)
curry leaves- 2-3
coriander leaves : 1 tbsp (chopped)
Microwave ivygourd with little salt and water till they soft. Pressure cook or cooking it over stove top can also be done
if you don't wish to microwave
.
Coarse grind coconut, chilli (roast dry red chilli if you are using it), cumin and salt.
Heat oil in a pan, add mustard and let it pop. Add urad dal and saute till it turns red.
Add coarse paste of coconut mixture and sautee for 30 sec, add cooked and drained Ivygourd pieces.
Stir to mix the contents. When the vegetable mixture is warm, remove the pan from stove and garnish it with coriander.
Serve hot as a side dish with rice and dal or with sambar. Goes well with curd rice :)