ಹುರಿಗಾಳು/Hurigalu is a delicious munching snack of Mysore/Karnataka. It is a low calorie and absolutely healthy snack which can be addictive. Spicy hurigalu with a cup of coffee, a good book to read is a good combo for timepass. Translated to English Hurigalu means roasted beans. Now does that sound delicious? To me yes! Traditionally it is made in large oven or what we called Bhatti in Kannada.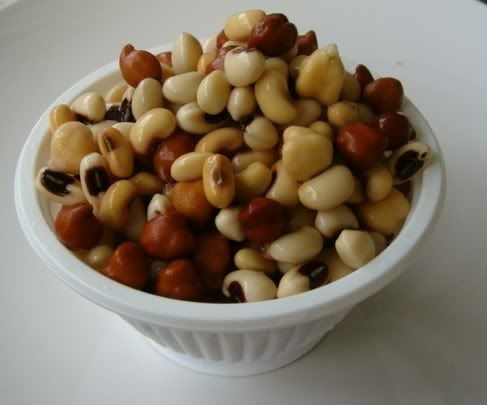 Hurigalu constitues green bean (ಹೆಸರುಕಾಳು), black eyed peas/red chori(ಅಲಸ೦ದೆ), horsegram (ಹುರುಳಿಕಾಳು), peanuts (ಶೇ೦ಗ), chickpeas(ಕಡಲೆಕಾಳು), soyabean etc. Soaked beans are stirfried in traditional oven. Because I love this snack I have a shortcut taught by mom to make them anytime. Beans sambar/saaru is equally delicious and healthy too. Since most of you know to make sambhar, let me share the recipe to make hurigalu. Its raining in Singapore and it made a perfect evening snack for us yesterday.
To make hurigalu you need the following :
Green beans , black eyed peas, horsegram, chickpeas, or your choice of beans - 1 cup
red chilli powder and salt mixed together with a drop of oil.
Procedure :
1.Soak the beans for 4-5 hrs in water.
2.Strain water from the beans and wipe them with a dry towel.
3. Heat a thick bottomed pan (I used cooker pan) on low-medium heat.
4. When the pan is sufficiantly hot, add a fistfull of beans and fry them till beans start crackling. When they stop dancing on the pan it indicates that beans are done. Remove them and pour into a large plate. Repeat the process with rest of the beans.
5. You can microwave peanuts in btw to hasten the process.
6. Fold in the chilli powder with the hot beans. Add a drop of oil which helps the chilli powder to stick to the beans. Enjoy them when beans are at room temp. When hot they tend to be bit soft.
Note: You can even make them using chickpeas only! Heard from
SPICEOFLIFE
her mom makes this during holi.
You can store them in a airtight container when they are at room temperature. Enjoy Hurigalu!


Wheat Flour Dosa and beans Sambar/Saaru My dinner