Little did I know the benefits of eating Brown Rice before I bought a bag of brown rice from Bangkok!! Why Bangkok?? u must be thinking!! On one of the lonely evenings of an office trip to Bangkok, I entered a super market just to kill time. I thought of buying a packet of potato chips flavored/seasoned with thai red chilli paste. I was amazed to see the variety of Brown Rice samples, and its wide availability there. Went around to see 7-8 varieties of brown rice. Itchy hand u see... ;) to buy something different, this pack of brown rice got a good seat in my suitcase. hmm..this was a year and half back. This packet of rice was still there in the corner of the cupboard waiting to be cooked and kept teasing me whenever I opened the cupboard.
One fine day I took enough courage to cook brown rice. So I thought of making dosa. umm...safer option ;) Onion uttappam tasted better than plain dosa with brown rice dosa batter. Do give a try ! You will like it.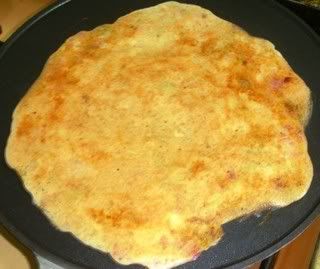 WHF
oods has complete description about brown rice and its nutritional value including its health benefits. Website says "
the complete milling and polishing that converts brown rice into white rice destroys 67% of the vitamin B3, 80% of the vitamin B1, 90% of the vitamin B6, half of the manganese, half of the phosphorus, 60% of the iron, and all of the dietary fiber and essential fatty acids
". I concluded .... -it is time to make brown rice uttappams for breakfast!! Here you go with the recipe
For Dosa Batter :
Wash and soak 3 cups of Rice (2 cups brown rice+1cup white rice):1 cup of urad dal for 5 hrs. You can add fenugreek seeds and chanadal if required. Adding 2 tablsespoons of sago gives crisp dosas. Grind them to smooth batter, add salt and let it ferment for 7-8 hrs or overnight. You can take a smaller cup or bigger cup for measurement depending on the qty you want to make.
Uttappam :
Onions chopped finely from : 5 onions
Green Chillies Paste from : 20 chillies
Coriander Leaves finely chopped
Curry Leaves finely chopped
Salt
Mix all the above to dosa batter and make small uttappams. Alternatively, you can make small dosas and spread the onions over dosa. Enjoy hot dosas with chutney and sambhar.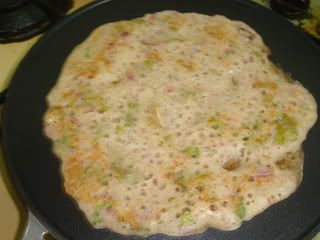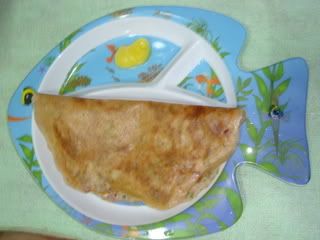 My 5yr old likes to eat it with ghee...:D this was his plate. He wanted me to show his fishy plate to u all... :D