Updated on Feb 10, 2015.
Just wanted to update this post with new pictures. It's good to eat seasonal vegetables. Sankranti is a time for peanuts, fresh chickpeas (kadalekaalu), avarekaalu etc. I fried avarekaalu after 4-5 years. We don't get good avarekaalu in Singapore and when we chance upon it, they may be expensive. This season we were lucky to have good supply for fresh mochai in Singapore. One of the batches was fried and it vanished in less than a week's time, as expected!
A very simple procedure and ingredients list as below :
Avarekaalu - 250g
Avalakki / Poha - 1/2 cup
Peanuts- 1cup (2 fistfuls)
Cashewnuts - generous amount
Roasted chickpeas - 1/2 cup (1 fistfuls)
Dessicated/grated dry coconut -2tbsp (
for garnishing only, do not deepfry
)
Dry red chillies - 3-4
Curry leaves - 1 tbsp of leaves
Oil for deep frying
Salt, turmeric, pepper powder, red chillipowder and chaat masala according to your taste
Utensils : Deep frying pan, Mesh laddle strainer (tootina jaradi in kannada) - two types. One to immerse in the frying pan and fry beans and the other is to drain them from the pan.
Method :
Step 1:
Deskin Surti papdi or avarekaalu. Soak them in water for 2-3hours. Drain the water and de-skin them. Discard the skin and retain the bean. Spread the beans on a towel to dry.
Keep other ingredients in the list ready. Heat oil in deep frying pan. Immerse the laddle inside the hot oil. Fry beans in batches. When beans are fried, the froth around it is less and they become lighter and brown. Drain them on kitchen towel (tissue). See the picture below :
Fry cashew nuts, peanuts, roasted chickpeas, curry leaves, red chili in the oil and keep them aside.
Add all spices and mix well.
Garnish it with dry grated coconut if you have at home. I did not have it this time around so skipped it. You can see the old post below which has grated coconut on it.
Serve it with Kapi/Coffee or Chai urmm...actually no need, they will vanish away in minutes after you mix and keep. Storing them from tempting hands is a huge task in itself. Dig your hands in the container and just enjoy!
Avarekaalu/Surtipapdi is widely used by Kannadigas in various preperations from lemon rice to sambhar to snack. In Karnataka avarekaalu becomes available in the market from mid-december and attains peak in January and gradually decreases. One of the delicious snack is fried avarekaalu with Chivda. You can just season the fried avarekaalu without using chivda too.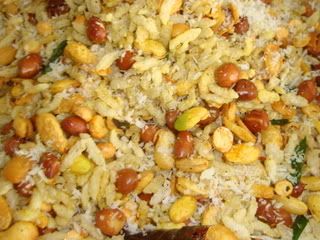 All you need to make this snack is :
1. Peeled, deskinned surtipapdi/avarekaalu - 1cup (to deskin papdi soak them in water for 2hrs)
2. Pressed Rice/avalakki/poha/avval - 1/2 cup
3. peanuts, pottukadalai/roasted chana dal/dalia - 1cup each
4. dessicated/grated dry coconut -2tbsp (
for garnishing only, do not deepfry
)
5. Dry red chillies - 1
6. Curry leaves from 1 line
7. Salt, turmeric and red chillipowder according to your taste
How to make :
Fry all ingrediants from 1-6 in the order mentioned, they may look like this when fried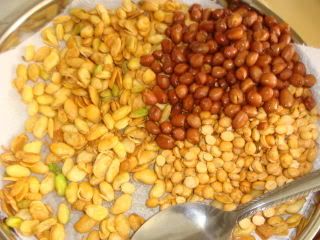 Add salt, turmeric and red chillipowder to the fried ingrediants and mix. Garnish with grated dry coconut. Your snack is ready to be served with a cup of hot coffee or tea. Enjoy it!!!