Not every kitchen experiment is a success like the one I am posting here. Over the years, I have seen many failures too, but when I succeed making something which suits our taste I am all happy on that day. Try it out to know it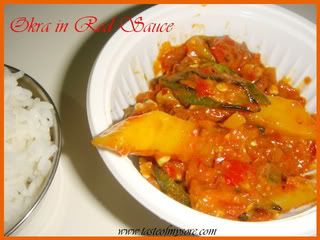 You need the following :
Okra/Bhindi - 250 g (washed, wiped and cut into pieces)
Potato - 1 medium sized, cut into thin pieces
Onion - 1 medium sized
Tomato -1 big/2 small
Red Capsicum - 1 cut into small pieces
Coriander seeds - 1tsp (dry roast on pan)
Garlicky Cumin Powder - 1tsp
Red Chillies - 2 (dry roast on pan)
Peanuts - 1/2 fistful (dry roast on pan)
Oil & Cumin for tampering
Method:
1. In a wide skillet, heat oil and add cumin/jeera
2. Add red capsicum pieces sautée till they are soft, onion follows, sautéed them till onions are transcluscent. Now add tomatoes continue to stir and fry till tomatoes turn mushy. Remove the pan from stove and allow it to cool.
3. Take roasted coriander seeds, redchillies,
garlicky cumin powder.
4. Blend them to a coarse powder. Add roasted peanuts and pulse. Peanuts should break down into large pieces.
5. Take the capsicum onion mix in the same blender and blend well to make a coarse paste.
6. Fry Okra/bhindi in a nonstick pan. When Okra stops sticking to each other add potatoes and fry further till u see potatoes turning brown.
7. Add the capsicum onion paste to fried bhindi n potato. Add little water and simmer for around 5 mins.