A thin crisp rotti made of the combination of Rice Flour and Sorghum/Jowar Flour along with grated carrots and finely chopped spinach and onions are a treat to eat with a dollop of white butter and stuffed brinjals. If you are lazy to make any side dish you can even do away by eating with
chutni powder
and curd. This rotti is made on a thin tava which is specially made to make this rotti. If you do not have one, just pat the dough on a food-paper (laminated paper). You can even pat them on banana leaf and transfer it on to tava directly. The rotti surface should be placed on the tava with the leaf and the leaf is removed carefully from the surface. Fry rotti on both sides with oil.
You need the following :
Rice Flour : 1 cup
Sorghum/Jowar Flour: 1 cup
Coriander : 2tbsp Chopped finely
Green Chilli Paste : 1tsp
Grated Carrot : 3tbsp
Chinese Spinach : 3tbsp (you can use indian spinach too)
Other optional veggie that can be added : Dill leaves, grated cabbage, onions, avarekaalu/surtipapdi, etc
Salt to taste and water to mix the flour
How do you make it :


Mix all the ingrediants first without any lumps. Then slowly add water and make dough. The dough here should be a bit loose, a finger inserted into the dough should go inside without any effort.
Grease the rotti pan with oil, and take a orange sized dough ball and pat on the tava to make a thin rotti.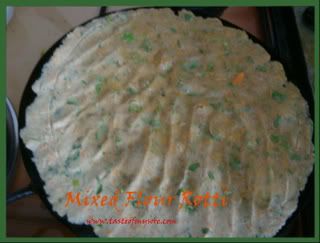 Place the rotti on stove and cover it with a lid. Slowly turn the tava around so that the whole rotti is baked properly from all sides. You can open the lid to see the unbaked portion and then turn it to the appropriate direction.
Remove it from the pan using a steel spatula and enjoy it hot with your curry of choice.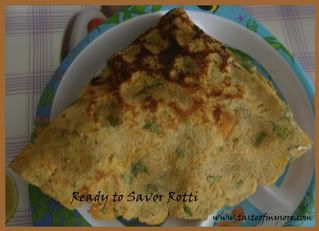 We also call it banale (pan) rotti because it is directly made on pan and then roasted.