Our love for rice never ends :)... what else can you expect from a SouthIndian?...hehehhee... so here you go with yet another recipe on Rice.
I have seen many Vangibath (VB)/Fried Rice with Brinjal recipes around, here is my version. Before telling you the recipe for VB, let me tell you the recipe for VB powder.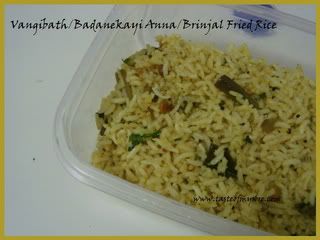 Vangibath Powder

:
Uddinabele/blackgram/Urad dal 400gm
Kadalebele/bengalgram/Chanadal 400gm
Chakke/Cinnamon/dalchini 25gm
Lavanga/Clove/Laung 5gm
Marati moggu/Dried Capers 10gm
Ananas hoovu/Star Anise 7gm
Byadagi Menasinakayi/Kashmiri Mirch 50gm (this is for color)
Chikabalapura menasinakayi/A spicier version of Red Chillies 75gm
Kottambari Beeja/Coriander seeds/Dhaniya100 gm
Dry coconut grated/Dessicated dry coconut = 500gm (Do not fry this)
salt to taste
Pan roast all the ingrediants separately and grind them to a coarse powder with Coconut and salt. Store in a airtight container in your refrigerator.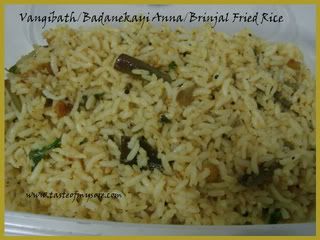 Vangibath
Brinjals (Long Green Variety) : 5 medium sized (clean and chop into 1''thick and 2''long pieces)
Cooked Rice (Basmati/SonaMasuri/Ponni)- 3 cups
Vangibath Powder : 2 heaped tbsp
Oil : 2 tbsp
Mustard seeds : 1/2 tsp
Uddinabele(uraddal)/kadalebele(chanadal) : 1tsp each
Curry leaves 1 line
Turmeric Powder : 1tsp
Salt, Lemon Juice according to taste
Coriander for garnishing

Heat oil in a pan, when it is hot add mustard seeds. When mustard stops popping, add two bele's/dals, curry leaves and turmeric. Let bele's/dals turn golden brown, now add in brinjals. Cover and cook brinjals till they are soft. Add VB powder, salt and remove from stove. Add rice and lemonjuice and mix. Check the rice for salt, adjust the flavors. You can add more VB powder at this stage if you like it more spicy. Garnish with coriander and serve it with curd