It is raining tangarines here...A gift to us during Chinese New Year are tangarines. Peel an orange and just keep the whole orange inside your mouth and enjoy the sweetness of Tangarines......in the past 5 yrs I have not eaten a sour tangarine. I used them to make yummilicious fruit salad.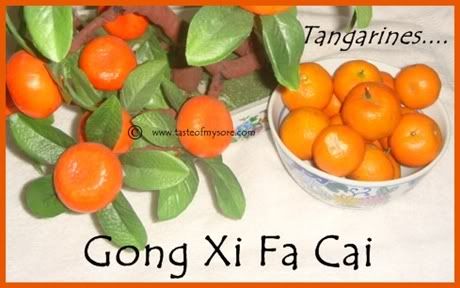 You need the following to make Fruit Salad :
(
Recommened to refrigerate all the fruits for 24 hrs and then use them
)
Apple : 1
Tangarines : 4
Pear : 1
Blueberries : 1tbsp (dried)
Almonds : 5
Figs : 4 (dried)
Golden Raisins : 2tbsp
Green Raisins: 2tbsp
Salad Dressing
Orange Juice : 5 tbsp (I squeezed juice from tangarine oranges)
Lemon Juice : 1tsp
Honey : 1tbsp
Cinnamon Powder : 1/2 tsp
Mix everything and keep it ready to mix.
Cut figs into half. Add in blueberries, raisins. Pour the dressing on top of the salad and toss.
Serve chilled or immediately.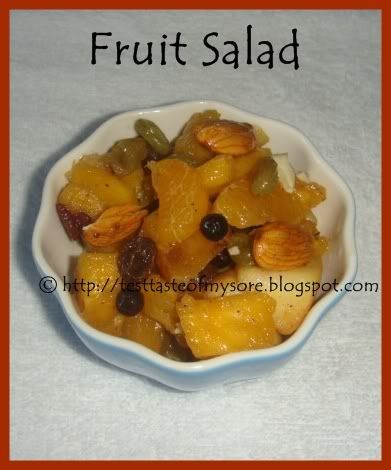 Since this salad can be made in 15 mins I will be including this in
SWC-Salads.
Enjoii this refreshing salad.