We were very impressed by these wheat idlis. I did not believe that cracked wheat can be used to make idlis, so I kept postponing this despite constant reminders by my sister who had successfully made them in her house and had gained praises from her MIL. It made a very good breakfast to diabetics at her place and they could eat them with less guilt.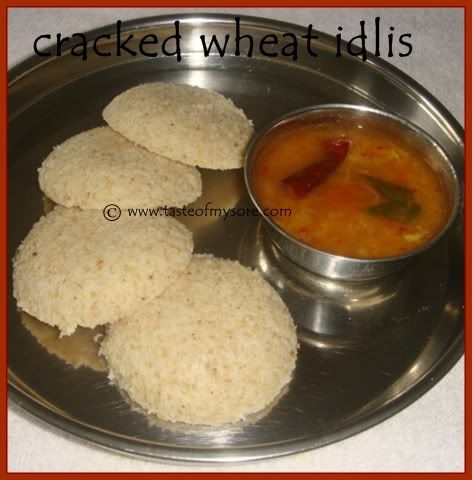 Godhi Rave Idli/Cracked Wheat Idli
you need the following:
Godhi Rava/Cracked Wheat/Daliya - 1.5 cups (1 cup holds 100ml of water)
Uddinabele/deskinned Blackgram
- approx 2-3 fistfuls
Menthekaalu/fenugreek seeds-5 seeds
NOTE
:
if you feel daliya or cracked wheat is too thick to be used, powder the cracked wheat in your grinder to make it like rava/granular cracked wheat and use it along with bran for maximum health benefits
.
1.Soak deskinned blackgram and fenugreek seeds for 3hrs.
2.Dry roast/fry cracked wheat on hot tava/pan till it turns golden brown and nice aroma wafts the room. Let it cool before you add.
3.Grind blackgram and fenugreek to fine paste with little water. Spoon thebatter to a airtight container.
4.Add salt, and roasted cracked wheat to the blackgram paste and mix well. You may little water if you feel that batter is very tight. Close the lid and keep it aside for 7-8hrs for fermentation.
5.Oil the idli plates, spoon the batter into the individual wells of idli plates.
6.Transfer these plates to pressure cooker/idli cooker. If you are using pressure cooker don't forget to remove the weight before you close the lid.
7.Steam the idlis for 8-10 mins. Start counting down once you see steam escaping from the nozzle.
8.Enjoy hot idlis with your favorite accompaniment.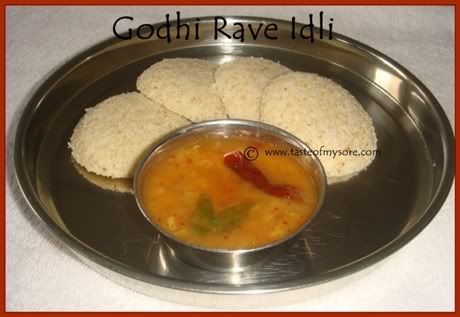 ENJOI MAADI.......