Almost every south indian household uses oggarane/tempering/seasoning in many dishes. From saaru/sambar to kosambari/salad oggarane adds aroma and enhances taste. By keeping this oggarane 'ready to use' not only saves time but it also saves the oil that goes in everytime.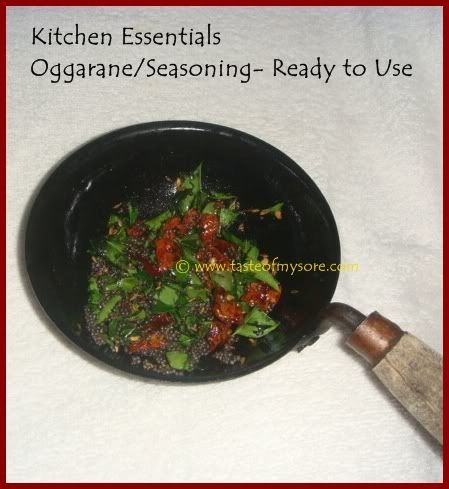 What do you need to do?
Just make this mix ahead of use and store it in a airtight container. It can be stored for 2 weeks! Here is how I do it..
Oil - 1tbsp
Mustard Seeds - 1tbsp
Cumin-1/2 tbsp
Fenugreek Seeds-1/2 tsp
Red Chillies- (4 broken)
Curry leaves-20 leaves (chopped)
Hing/Asafoetids - 1tsp (powdered)
Heat Oil. Pop Mustard seeds. Add cumin, and fenugreek seeds. Once enugreek seeds turn red add red chillies, hing and curry leaves and mix well. Switch off the stove and let it cool down. Once the whole mixture comes to room temparature, store it in a airtight container. Use it whenever you want :)