I saw this on
Sri's blog
and decided to make it. It was indeed a delicious treat for us. Thanks Sri for sharing your recipe.
Ingredients :
Bread : 10 slices (chopped into 1" pieces)
Sugar : 1cup
Milk: 200ml
Saffron strands : few (soaked in 25 ml warm milk)
Ghee : 3 tbsp
Chopped Nuts : 4 tbsp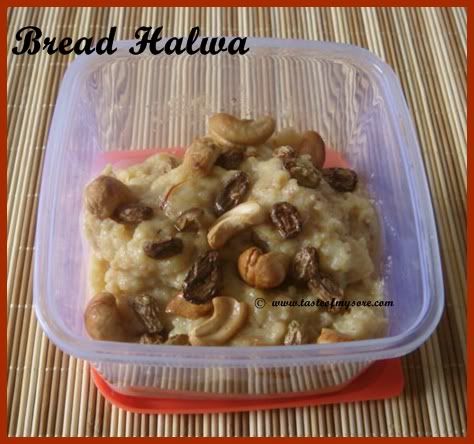 1. Fried bread pieces in 2 tbsp of ghee and remove them from pan. Fry nuts in the same pan with remaining 1 tbsp of ghee and keep nuts aside.
2.Take fried bread pieces, milk and bring to boil. Let bread pieces cook in milk.
3.When the mixture thickens, add sugar, saffron strands with milk and bring to boil again.
4.Let the mixture thicken, switch off the stove and garnish with fried nuts and serve.
Yummy bread halwa is ready to be devoured. :D