This is my 200th post and it has been a wonderful culinary journey through this blog. TOM has always featured Karnataka style cooking ever since I started it. This is a different post, a dish which my family loves whenever I prepare it for them. It is a little unusual combination but it tastes well together :)Most of my elaborate cooking happens in the evening after a tiring day in office. We tried our best to take good pictures.
Gobi Manchurian
You need the following :
Frying:
Gobi/Cauliflower : 400 g ( a big flower)
Maida : 1 cup (1 cup = 100ml)
Kadalehittu/Besan/Gramflour : 3tbsp
Cornflour : 4 tbsp
salt
Oil for frying
Sauce:
Tomato Sauce : 1/4 cup (Maggi Hot and Sweet)
Soya Sauce : 5 tbsp
Vinegar : 2tbsp
Veg Oyester Sauce : 1 tbsp
Seasoning :
Oil : 1tsp
Ginger : 2" (chopped into tiny pieces)
Garlic: 4 pods (chopped finely)
Onion : 2 (chopped finely)
chopped coriander for garnishing.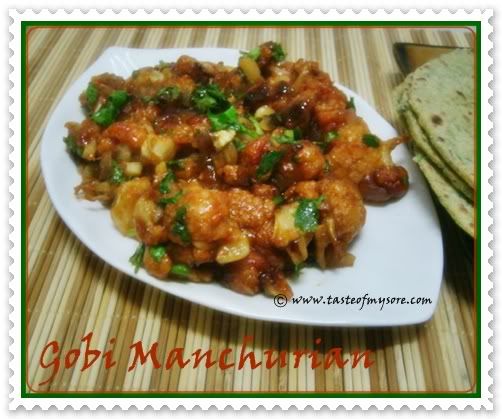 Method:
1.Separate cauliflower florets and dip in salted hot water for 5 minutes. Drain the water and keep it aside
2.Heat oil in a thick bottomed pan on low flame.
3.Mix maida/ll purpose flour, besan and cornflour and salt with little water to make loose batter.
4.Heat the oil on medium flame for 2 mins.
5.Dip cauliflower florets in batter and leave it in hot oil. Fry them well and drain them on a absorbent paper/tissue paper. Change the tissue paper for every batch of fried gobi. Repeat this till you finish frying all gobi florets.
6.Mix the sauces, keep it aside.
7.Heat oil for tampering and add garlic fry till they are crisp and then add ginger. Add onion once the raw smell of ginger dissappears. Fry onions till they change color. Add sauce mixture and mix.
8.Add in fried gobi florets and give a good stirr. When the whole mixture becomes warm/hot you can remove it to a serving bowl, garnish and serve it hot hot hot!!!
It is usually served as a starter, but it goes very well as a vegetable to your roti/parantha/thepla
Palak Thepla
You need the following:
Palak : 2 cups, chopped finely
Whole Wheat Flour : 2 cups
Kadalehittu/Besan/Gram Flour : 1/2 cup
Toasted Sesame Seeds/Ellu/Till : 1 tbsp
Sour Curd : 1 cup
Green Chilli Paste
: 1 tsp
Salt
1.Mix everything to make a tight dough. You can use little water if curd alone is not sufficiant . Let the dough rest for 10 mins.
2.Roll them into circles and fry them on hot tava/girdle. I did not use any oil for frying as manchurian had loads of oil in it. You can fry theplas with oil or ghee.
Onion and tomato Raita, Palak thepla and Gobi Manchurian made a tasty dinner for us. I hope you will enjoy prepapring them. Palak Thepla's goes to my event
Meals on Wheels
On a different note,
Pratibha
of
The Chef and Her Kitchen
and
Prajusha
of
I cook I post
have given me "I love your Blog" award. Thank You Pratibha and Prajusha. I love your blogs too :)
I would like to pass this on to all wonderful bloggers who put in their heart and soul to share their yummy recipes. I love following blogs :
1.Jalan Jalan - Yosee
2.Vegetable Platter -Deesha
3.Foodies Hope and Aroma - Asha
4.Savi Ruchi -Sushma
5.Creative Saga - Sowmya
6.Indian Khana -Preeti
7.I Cook I Post -Prajusha
8.The Chef and Her Kitchen-Pratibha
9.Nanna Adige-Ashwini
10.Recipes 24 by 7 -Mangala Bhat
11.My Adige Mane -Gayathri
12.Grandma's Recipes - Lilly Mammama
13.My Kitchen Treasures -Happy Cook
14.Cuisine Point -Ujju
15.Colors of Nomadic Life - Shubha
16.Plantain Leaf -Rekha
17.Essence of Andhra -Uma
18.Spice Club -Cham
19.Mysoorean - Vani
20.Kannada Cuisine- Smitha
21.Key Bunch - Rekha and Sharon
22.Rak's Kitchen - Raji
23.Ruchii - Madhu
24.Cooking is Divine-Jayashri
25.Life Begins Nourish It - Smi
26.Priya's Easy n Tasty Recipes - Priya
27.Appyayan-Indrani
28.Preeti's Online Cook Book - Kitty Matti
29.Srikar's Kitchen-Sri
30.Passion for Cooking - Ramya VijayKumar
31.Ramya Cooks - Ramya Bala
32.My Handicrafts - Shama Nagarajan
33.Delectably Yours - A_and_N
34.Sai Kitchen-Pooja
35.Cooking Kriya - Sharada
36.Simply Innocence - Rajee Karthik
37.Chandrabhaga-Anusriram
38.Adalak's Kitchen
39.Chitra Amma's Kitchen-Chitra and Dibs
40.MalasKitchen-Vanamala
41.Sanghi's Food Delights
42.Kitchen Flavors-Lubna
43.Rasagavala..-Alamelu
44.Asan Khana-Priyanka
45.Konkan World- Maya
46.Simple Indian Food- EC
47.Finger Licking Food-Namratha
48.Will-O'-the-Wisp - Varsha Vipins
49.Cinnamon Hut-Nupur
50.Sukanya's Musings-Sukanya
.........and many more who visit this blog and leave lovley comments. I love all your blogs.