After I saw this at
Bharathy's place
I got tempted and thought of making it. Well, when I start making some dish I always end up adding something extra to suit our pallet. It happened without fail this time also and it was perfect! after I finished the potatoes with coarse peanut powder and I deleted away garlic from the original recipe.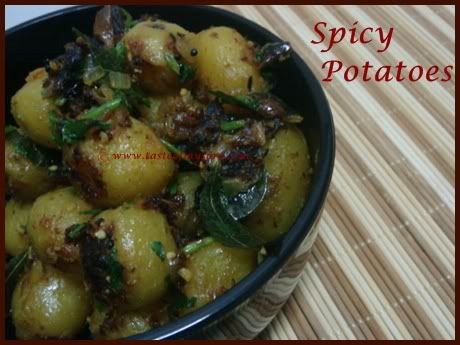 You need the following to make spicy baby potatoes :
Baby potatoes : 250g
Oil : 1tbsp
Mustard : 1/8 tsp
Hing/asafoetida : a pinch
Turmeric : a pinch
Onion : 1 chopped into fine pieces
Sambar powder/saarina pudi
: 1 tsp
Curry leaves from 1 line
Water : 5 tbsp
Salt
Coarse Peanut Powder : 2 tbsp
Coriander : 2 tbsp, chopped
1.Wash and pressure cook baby potatoes with little salt. De skin them and refrigerate for 2 hrs.This makes them little firm.
2.Heat oil, pop mustard seeds, add hing, turmeric and curry leaves.
3.Onions go in next. Sautee till onions change color. Add in sambar powder, baby potatoes and give a good stirr. You can sprinkle little water at this stage as potatoes stick to the pan. Add little salt. Cover and cook till flavors get infused into potatoes.
4.Finally add peanut powder and mix. Open and cook for next 2-4 mins.
5.Switch off the stove and remove potatoes to a serving dish.Garnish with coriander leaves.
6. Serve hot with rice and rasam or they are good on their own :D