Akkithari Uppittu/Coconut and Broken rice upma
You need the following to make this :
Akkithari/Broken Rice : 2 cups (rice granule size must be 3 times bigger than a granule of semolina)
Eerulli/Onions : 2 (medium sized, sliced length wise)
Hasirumenasinakayi/Green Chillies : 8
Karibevu/Curry leaves : 4-5 leaves
Hasikobbari turi/grated wet coconut : 1/2 cup (1cup=100ml )
Enne/Oil : 1 tbsp
Sasive/Mustard : 1/4 tsp
Jeerige/Cumin : 1/4 tsp
Turmeric : a big pinch (optional)
Uddinbele/Urad dal : 1/2 tsp
Kadalebele/Chana dal : 1/2 tsp
Take 1.5 cup of rice and run it in a mixer grinder to make finely broken rice.
Sieve the powder to get only broken rice. Roast the broken rice for 2-3 mins till the mixture gets warm
Heat oil in a vessel you intend to make upma.
Add mustard and when it stops popping, add jeerige/cumin followed by two dals. Chana dal goes in first.
Add green chillies, chopped onions, curry leaves and give a good stir. Mix and add little salt. Let onions change its color. Now add 5 cups of water (1 cup of broken rice=2.5 cups of water) and bring it to boil.
Add salt and mix. Check the taste of boiling water. Add half cup of grated wet coconut.
If salt is added sufficiently, reduce the flame and start adding broken rice/rice semolina. Keep stirring while you add and this prevents lump formation in upma. Let the mixture boil for 1 min. Switch off the stove, cove the upma vessel and proceed to make chutney.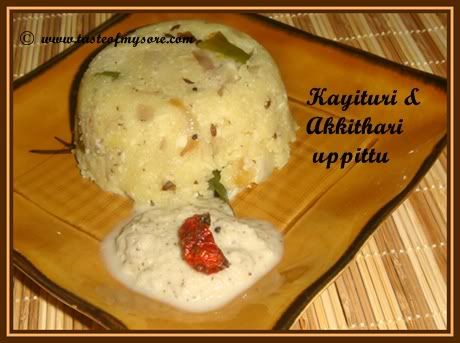 Eerulli kayi chutney / Onion and Coconut chutney
Onion : 1 tbsp (roast it with little oil on a pan)
Wet coconut : 1 cup
Roasted chickpeas : 2 tsp
Coriander : 2 tsp (roast it with little oil on a pan)
Green Chillies : 4 (roast it with little oil on a pan)
salt, tamarind paste(half tsp)
Grind everything to make a smooth paste. Spoon to a cup/bowl and add
seasoning/oggarane
/tempring
Enjoy uppittu and chutney!