YES!! you heard it right! It is
ragi/finger millet
soup. I have used 'Ragi hurittu'or 'sprouted and pan fried ragi flour' which is healthy to children as well as adults. It is believed among rural people of south Karnataka that ragi hurittu ganji cools down the body. There are many ways to consume hurittu. I have modernised it and made soup which was instantly approved by my family. Little A enjoyed his share of soup and asked for more cobrolli (broccoli) :)) .
How to make ragi hurittu:
Whole grain Ragi : 1 cup
Soak for a day. Discard the water and tie ragi in a muslin cloth and leave it a closed box for sprouting. Normally takes 1-2 days. Take sprouted ragi and dry it '
indoors
'. Fry this 'totally dry' ragi in a thick bottomed pan on low heat; 1 spoon at a time. You can see ragi pops as popcorn. When 50% of them have poped up remove them to a plate and let it cool down. Powder this in your coffee grinder to make ragi flour. Sieve this ragi flour using a muslin cloth to get fine flour which can be used to for making porridge. You can use the flour without sieving too.
Easy way :
Buy Ragi hurittu from a nearby store :D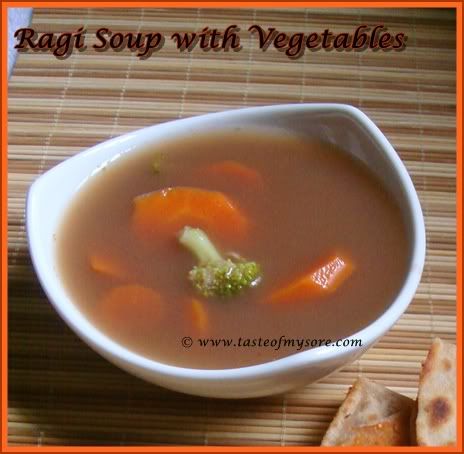 Ragi Soup with Vegetables
Choice of your vegetables (use meat if you are meat eater) : 1 cup
Vegetable Stock (you can use meat stock if you are meat eater) : 2 cups
Garlic : 2 pods (chopped finely)
Ragi Hurittu : 2 tbsp
Salt and Pepper
Fry garlic in a non-stick pan. Keep it aside.
Boil Vegetables in stock water till they are half done. Crunchy vegetables taste good with soups. Separate vegetable and stock water.
Add salt and pepper to ragi hurittu with little water to make it a thick paste.
Bring stock water to boil, add garlic and ragi hurittu paste. When soup starts boiling again mix the soup well and switch off the stove. Remove soup to serving bowl. Add vegetables on top and serve hot!!!
Totally fat free and healthy soup for you and your family...ENJOY MAADI