ಓದುಗರಗೆ ವರಮಹಾಲಕ್ಷ್ಮಿ ಹಬ್ಬದ ಶುಭಾಶಯಗಳು. ಆ ತಾಯಿ ತಮ್ಮೆಲ್ಲರಿಗೂ ಸುಖ, ಶಾಂತಿ, ಆಯಸ್ಸು, ಆರೋಗ್ಯ, ಐಶ್ವರ್ಯವನ್ನು ದಯಪಾಲಿಸಲಿ ಎಂದು ಹಾರೈಸುತ್ತೇವೆ
May godess Varamahalakshmi bless you with riches and good health.
Before Pooja: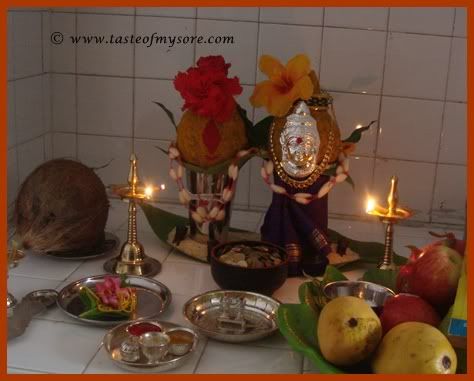 After Pooja:
Hayagreeva a sweet considard as a holige equivalent :D At times when there is no time to prepare holige you can prepare hayagreeva.
You Need:
kadalebele/chanadal : 2 cups
bella/Jaggery : 1.5 cups
tuppa/Ghee : 2tbsp
gasagase/poppyseeds : 1tsp (pan fry till aromatic and powder it with dry coconut)
Dry grated coconut : 2tbsp
Dry Fruits for garnishing
1.Soak chanadal overnight. Bring to boil 4 cups of water and add a pinch of turmeric. Add chanadal when water starts to boil. Cook dal till it is soft and done. Separate dal and water. Use dal water to make rasam or sambar or soup
2.Add 1/2 cup of water to 1.5 cups of jaggery and bring to boil. Filter the solution to remove dust from jaggery. Bring to boil and continue to boil till you get a thick solution. It takes 2 minutes to reach this stage. 3.Reduce the heat and proceed to next step.
4.Add 1 tbsp of ghee and cooked dal and bring to boil. Add poppyseeds+coconut powder to it and mix well. When the resulting solution starts boiling again switch off the stove and garnish with nuts fried in 1 tbsp of ghee.
5.Serve hot or cold, both taste equally delicious.