What is in a name ?... If you are wondering what it might be after reading the title :D
Amma made masale chapathi just like masale dose and in these years we had stopped making chutney and palya for chapthi. One fine day when I had
onion chutney
and some left over potato palya I just made this and rest is history :) ....it was super hit. R took a bite and asked me "is it Mysore Masale Chapathi"? just like your
mysore masale dose
...ehehehe..I had a title for my next post. Masale chapathi is best eaten when it is hot just like MMD.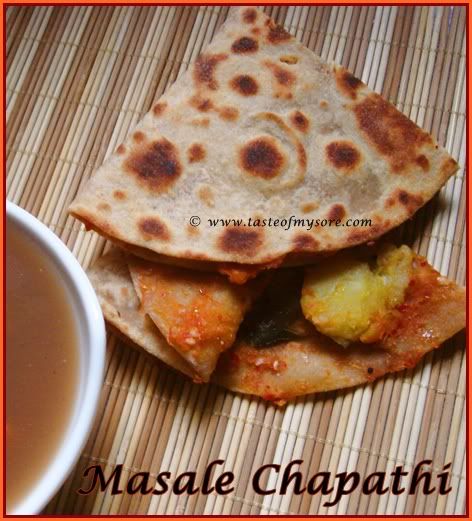 1.You can access Onion Chutney
here
(click on here). Alternatively you can use coconut chutney also
2.Make Potato Palya/Sabji in a way you like.
3.Make chapathi (probably thin Paratha in North Indian style). Transfer rolled chapathi to a hot tava/ girdle
4.When one side is cooked/browns flip over the chapathi.
5.Reduce the heat and start making masale chapathi.
6.Take 1 tbsp of onion or coconut chutney and spread it over chapati evenly. Spread potato palya on one side of chapathi. Add a tsp of ghee and fold the chapathi into half. You have a half moon shaped chapathi with you now. Spread ghee on top of the chapathi, flip over and apply ghee again. Total amount of ghee used should not exceed 1.5 tsp..too much ghee spoils the taste unless you love ghee you can spread generous amounts on chapathi.

Another look :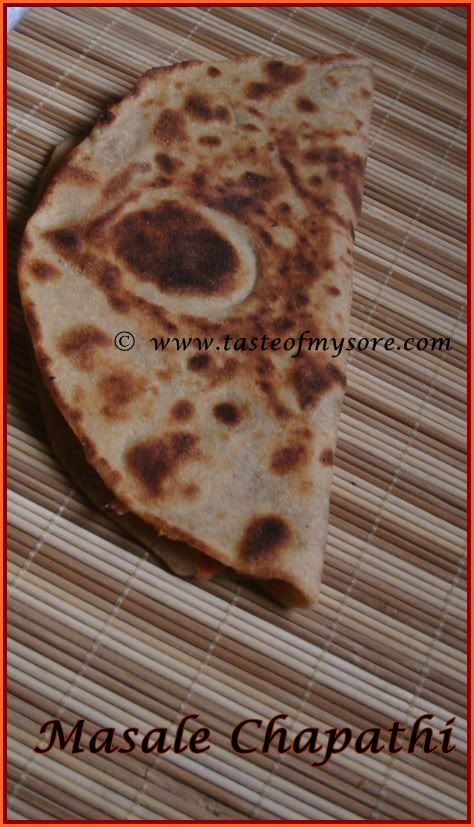 7.Remove to a serving plate and enjoy!! Mysore Masale Chapathi from Taste of Mysore blog :D
On a different note,
Uma
,
Suparna
and
Raji
have showered me with Kerativ Blogger, One Lovely Blog and I love your Blog awards and Tags. Thank you Girls. You all are creative and I 3 love your blogs :)
Kreativ Blogger award comes with some rules :
You must thank the person who has given you the award.
Copy the logo and place it on your blog.
Link to the person who has nominated you for the award.
Name 7 things about yourself that people might find interesting.
Nominate 7 other Kreativ Bloggers.
Post links to the 7 blogs you nominate.

Leave a comment on which of the blogs to let them know they have been nominated.
7 things about myself that people might find interesting :
1.Blogging - Recording day to day recipes for consistant taste was the main objective of starting TOM. It has not only served it's purpose blogging has given me much more than that. I could make friends accross the world. I have never seen them but a e-mail from them makes my day.
2. Eating - I love to try different varieties of vegetarian food. Thanks to hubby who made me adventurous or else I would have stuck to same 15-20 types of dishes that I knew before...
3. Cloud 9 : I often travel on this cloud for few seconds( like quantum physics explains 'excited state'..excited atom which cannot be in higher orbit for a long time, I too come back to ground state very soon.....) when I recieve appreciations from my hubby and dear friends; when readers/friends give me a feedback about the recipes published on Taste of Mysore
4... 5...6...7... probably some other time :P
An example .......
One of my reader sends me a graphic designed 'thank you' card. Thanks to you too Mr.Sujay for showing confidence in my recipes and trying them out. Trust you enjoyed Congress Kadalebeeja and Rave Kodubale.

Awards:
8 other bloggers whom I want to nominate for these awards :
Prathibha
of the Chef and Her Kitchen
AnuDivya
of and a little bit more
Namratha
of Finger licking food
Sowmya
of Creative Saga
Priyanka
of Asan Khana
ChitraAmma
and Dibs of Chitra Amma's Kitchen
Vanamala
of Mala's Kitchen
Sharon and Rekha
of The Key Bunch
Enjoy your awards girls... :)