This is my mother's way of making soppina saaru. I am not sure where amma learnt this but, this is one of our favorite accompaniment for
mudde/raagi rounds
.
You Need :
Palaka soppu/Palak/Spinach : 1 bunch (washed and chopped - 5 cups closely packed. 1 cup holds 100ml of water)
Washing Greens : Cut off the root from the bunch. Immerse the bunch in a pan ful of water. The pan should be preferably wide and shallow. Round & deep bottomed pans make good choice as all the dust and sand settles down and your can collect the greens which float on top. Soak the greens in water for 5-10 minutes. Wash 2-3 times before you start chopping.
Togari bele : 1/2 cup (1 cup holds 100ml of water)
EErulli/Onion : 1 (medium sized, deskinned and chopped into 1" cubes)
Belulli/Garlic : 2 big pieces
Onamenasinakayi/Redchillies : 4 - 6 (adjust according to your spice levels)
Kottambaribeeja/Coriander Seeds : 1 tbsp
Jeerige/Jeera : 1/2 tsp
Harishina/Turmeric : 1 pinch
Other ingredients:
Hunasehannu/Tamarind Juice : 2 tbsp
Salt
Oggarane/seasoning (click to follow the link)
1.Pressure cook greens, bele/dal, onion, garlic, chillies, coriander seeds, cumin and turmeric with 2-3 cups/enough of water. Cook everything together in a vessel.
2.Remove the cooked contents outside the cooker and keep it aside. This should come to room temparature.
3.Once the cooked greens has achieved room temparature, add tamarind juice and salt to it. Grind the mixture to a smooth paste in your juicer or mixer grinder.
4.Remove the contents to a pan and add seasoning. Boil it for 2-3 mins. Check for salt and sour levels and adjust.
5.Serve with hot mudde / rice with little ghee. Enjoy Maadi ..! Not interested to eat with rice?? Just drink the soup with a blob of butter on it :D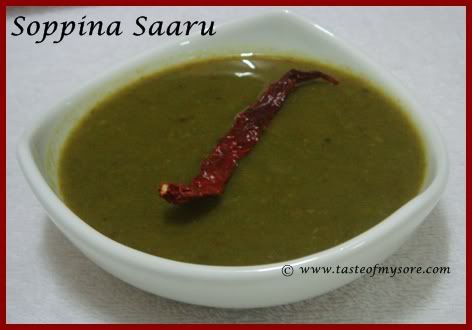 Charity Appeal:
Charmaine is a 4 yr old daughter of Cynthia. Charmaine is diagnosed with neruoblastoma. She is currently in the 4th stage and fighting hard. If you can, please donate to help Charmaine. Every penny counts. You can find about this little princess at http://ourfeistyprincess.blogspot.com
ಶ್ರಾವಣ ಬಂತು ಕಾಡಿಗೆ ಬಂತು ನಾಡಿಗೆ ಬಂತು ಬೀಡಿಗೆ ಓ ಬಂತು ಶ್ರಾವಣ .. ಅಂತ ಬಂದೆ ಬಿಡ್ತು ನೋಡಿ ಶ್ರಾವಣ ಮಾಸ ಈ ಹಬ್ಬಗಳ ಪಟ್ಟಿ ನಿಮಗಾಗಿ

Sharavanamasa Begins
-
23 July 2009
Nagachaturthi
-
25 July 2009
Nagapanchami
-
26 July 2009
Mangalagourivratha
-
28 July 2009
Varamahalakshmi Vratha
-
31 July 2009
Yajurupakarma
-
5 Aug 2009
Sharavana Shukravaragalu
-
24 July, 31 July, 7Aug, 14 Aug 2009
Some useful links on Taste of Mysore :
AshtaLakshmi Stotra, Lakshmi Ashtaka
(click maadi/ Click on the words for the webpage)
Saraswathi Astottara, Lalitha Sahasranama
If you want more details about prayers, festivals, and other lyrics in Kannada do mark a visit to Shree's blog at Pooja Vidhana @ http://poojavidhana.blogspot.com/
You can access
Lakshmi Astottara
in Kannada on Pooja Vidhana Blog (Click on Lakshmi Astottara)