Ragi Mudde, a popular dish among rural folk in Karnataka and a popular dish of Karnataka. It is a staple food of our farmers in southern parts of Karnataka very popular in Mandya, Mysore district. Have a mudde round and you may not ask for anything more :) it makes such a satisfying meal.... It is considered as a healthy food for all age groups. Srouted Ragi porridge is given to babies, ragi malt to young children, ragi mudde is eaten by adults. There are many combinations which go well with ragi mudde, of them we love spinach and lentils preparation (Massoppu). There may be few more ways of making Ragi Mudde. Here is how my mom and I make ragi mudde :
Ragi Mudde
You need :
Ragi(Finger Millet) Flour : 1 measure
Water : 2 measures
Salt
Heat 2 glasses of water, add salt to it. In a small cup mix 2 tsp of millet flour with with luke warm water and make a paste. When water is warm add this paste and stir well (if you don't stir the paste sticks to the bottom of the vessel) and bring the water to boil.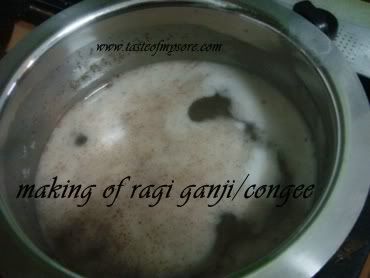 Add 1 measure of millet flour to boiling water and reduce the flame to medium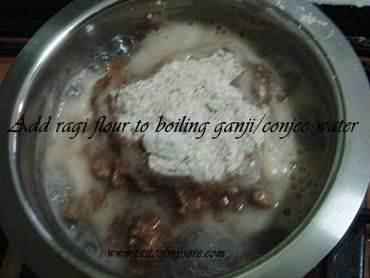 Let it boil for 3-4 mins. Keep a watch on the vessel, it might overflow..reduce the flame. After 3 mins take the vessel from the stove and mix it with a wooden stick
Mix well till no lumps are seen ..like this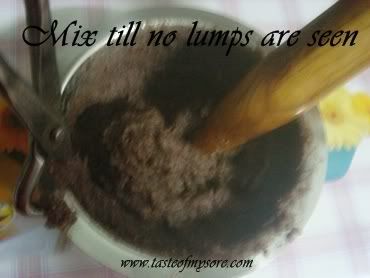 Spoon the flour to a edgeless plate. Wet your hands and make a nice ball.
Punch a little hole in the center and add a drop of ghee :) and serve hot!
That is my son's plate :) he loves it hot n nice ..Ragi mudde is tasty to eat even with yogurt/dahi/curd and salt.
How to make Massoppu :
Massoppu = masida soppu = well mashed greens ...this is an attempt to translate massoppu from Kannada to English :D
A medley of spinach and lentils spiced with green chillies, coriander a d garlic seeds is massoppu. Again a dish popular among rural folk of southern Karnataka. Here is how we make it :
You need :
1.Spinach : 1 bunch (Clean and chop)
2.Split Pigeon Peas/Togaribele/Toordal : 1 cup
3.Garlic : 3 numbers (clean and chop into small pieces)
4.Onion : 1 (deskin and chop into 1" pieces)
5.Turmeric : 1 pinch
6.Green Chillies : 4-5 (adjust according to taste)
7.Grated fresh coconut : 2tbsp
8.Coriander seeds powder : 1tsp (freshly toasted and coarsely powdered)
Tamarind juice : 2tbsp
Tampering/Oggarane : Oil, mustard&Cumin mix, red chillies, curry leaves, asafoetida/hing ..heat oil and add the ingredients one after the other in the order mentioned.
Pressure cook ingredients from 1-8 for 3-4 whistles with enough water. Once the pressure comes down, remove the vessel and decant the water from dal and spinach mixture. With a hand blender or with a back of spoon mash the mixture well.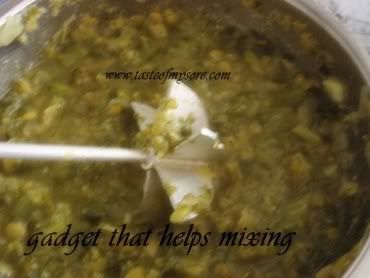 Add tamarind juice to the mixture and pour tampering. Add salt and bring the mixture to boil. Check and adjust flavors accordingly. Massoppu is ready to eat with ragi mudde.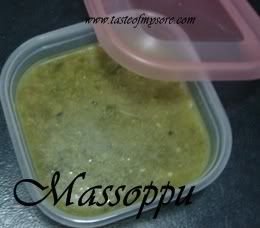 Mudde Massoppu goes to
Sheetal
for SWC-Karnataka event.