Bisi Bisi....Idli-Vade-Sambar ..yummm..any SouthIndian (?..probably most Indians) would not deny this combination breakfast. Bisi Bisi=Hot Hot ; For those who don't understand I-V-S = steamed rice cake - doughnut- lentil curry :)
I made thatte idlis (plate idlis) which are very popular in some parts of Karnataka & this would participate in SWC-Karnataka event.
here is how it is made :
Idli /Steamed Rice Cake
1.Idli Soji/Cream of Rice/Rice Semolina - 3 cups (suggested substitute- parboiled rice)
2.Split Black lentils - 1cup
3.Pressed Rice/Avalakki/Poha - 1 fistul
4.Fenugreek seeds/menthya/methi-1tsp
1.Wash and soak ingredient 1 separately and ingredients from 2-4 together in a separate vessel for 6-7hrs. 2.Grind ingredients 2-4 together in a wet grinder/mixer grinder to a smooth paste using minimum water.
3.Remove excess water from Soji and mix it with paste. Add 2tsp of salt and mix the batter well.
4.Pour the batter into a airtight box and let it sit for next 10hrs for fermentation. Let this box be left in a warm place of your kitchen (not on stove tops or inside the oven plzzz...) Let there be enough space inside the box... this is to avoid the overflow of batter once it is fermented.
Suggestion
:Soak the ingredients in the morning, grind it in the evening and let it sit for fermentation overnight and the batter is ready for making idli/cakes next morning.
Method :
1.If you have Idli Plate which has 4-5 shallow grooves in a plate, you just have to pour the batter inside the groves and steam them in a steamer/pressure cooker without weight.
2.Alternative way is to pour the batter in edged steel plate and steam it in a cooker (take a plate which can fit inside your cooker also it should be easily removable)
3.
Steam Idlis/Cakes for next 8-10 mins or till a needle/fork/knife inserted comes out clean. Idli is ready to be served
.
Suggestion :
Place a cooker plate (a plate which you get along with pressure cooker) before you place Idli stand inside the cooker.
Vade/Vada/Deepfried Indian Doughnuts
:
Ingredients & Method:
Uddinabele/Urad Dal without skin
- 1 cup
Pressed Rice - 1tsp
Soak both of them together for 3-4hrs and grind them using very little water to a smooth paste.
Then add these 1) finely chopped onion -1tbsp 2)finely chopped green chillies 3) whole black pepper - 1tsp 4) finely chopped coriander leaves -1tsp 5)finely chopped curry leaves-1tsp 6) salt and mix well.
Heat Oil on a low heat in a frying pan. When oil starts smoking/sufficiantly hot to fry..wet your hands and scoop little batter, wet your thumb and make a hole between the batter and push the batter with your thumb into the hot oil from the edge of the frying pan. Fry vade's on both sides till they are crisp and golden brown.
Few Suggestions
: 1.The position of batter : they will be in four fingers, keep your thumb empty to make a hole and to push the batter into the oil.
2.Wetting of hand/palm is important....
3. Just watch for extra water that might be dripping from your hand before you push the batter into the hot oil or else water might enter the hot oil and it might be dangerous..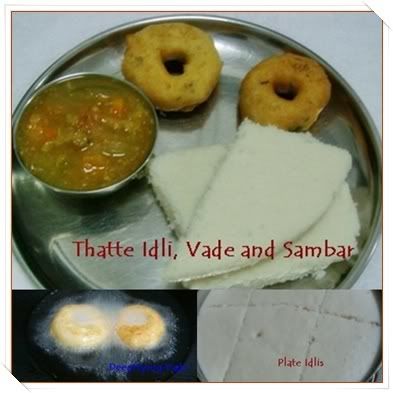 Vegetable Sambar/Lentil Curry
:
You need the following :
Onion : 1 big
Tomato : 2 big
Carrot : 1
Beans : 10
Togaribele/Toordal/Arhar ki da
l - 1cup
Turmeric : 1 big pinch
Fry and grind to a smooth paste :
1.Grated fresh coconut - 4tbsp (don't fry)
2.Lavanga/Clove/Laung- 2 (fry in half drop of oil)
3.Chakke/Cinnamon - 1" piece (fry in half drop of oil)
4.Kadalebele/Chana dal - 1tsp (fry in half drop of oil)
5.Uddinabele/Urad dal-1tsp (fry in half drop of oil)
6.Onamenasinakayi/Dried red chillies-4 (fry in half drop of oil)
7.Dhania/Coriander seeds - 2tsp (fry in half drop of oil)
8.Jeerige/Cumin -1/2tsp (fry in half drop of oil)
9.Tamarind Paste : 2tbsp (no need to fry)
10.Salt
Substitue with 2tbsp of sambar powder for ingredients from 4-8
Tampering :
Oil, mustard, curry leaves, asafoetida/hing
Wash and chop all vegetables into 1/2" pieces and pressure cook vegetables and dal with little turmeric with sufficiant water. Heat oil in a wide pan and do tampering by adding the ingredients mentioned in order. Pour in the ground masala and fry for a min. Add pressure cooked vegetables and dal. Mix and bring it to boil. Let it boil for 3-4 mins. Check and adjust the taste accordingly.. Serve hot with Idli and Vade.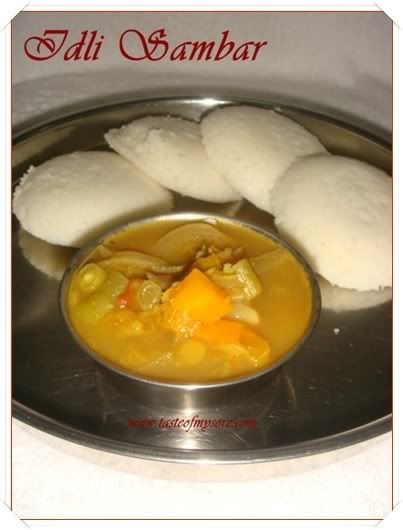 Now this goes to
WBB-Combibreakfast
and
SWC-Karnataka