Chiroti rava
rotti is fast to make and yum to eat. Rotti is bland so any kind of spicy gravied vegetable is a perfect match. As I have mentioned in my
previous post
that we at home have kind of fixed the vegetable and flat breads. This is one such combination which works well together.
You need the following to make
Rava rotti
:
Chiroti Rava
- 1 big cup (about 150-200g) (follow the link to see the picture of chiroti rava
Water : 1cup
salt
Maida/all purpose flour for dusting
Oil for frying rotis
Gadgets :
Rolling pin and a wooden working board to make rotis
1.Bring water to boil with salt. When water starts boiling turn of the stove and add 1 cup of rava and stir well, cover the vessel and leave it aside, till you make gojju.
2.When rava comes to room temparature, spoon it to a big plate and mix it thoroughly. No lumps should be present in the dough. You can oil your hand to prevent dough from sticking to your hand.
3.Divide the dough into equal parts and make balls.
4.Press down each ball and flour the surface of the ball and roll them with rolling pin to make circle.
5.Fry/Roast them on a hot girdle by applying little oil on each side while you turn it over.
This is how it looks when you fry rave rotti ..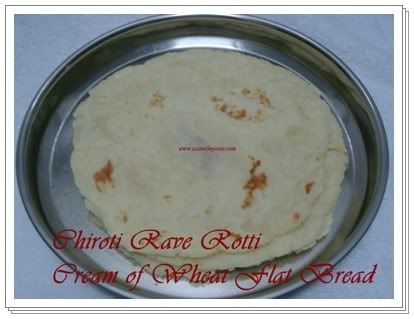 Onion and Tomato Gojju :
You need the following to make
Gojju Pudi
:
1.Coriander seeds - 1.5tsp
2.Peppercorns-1/2tsp
3.Redchillies-2
4.Cumin/Jeera - 1tsp
5.Garlic - 1 pod (smallest one will do)
6.Roasted Chickpea/hurgadale/bhuna chana dal-1.5tbsp
7.Salt
8.Jaggery to adjust flavors (optional)
Panroast the ingredients from 1-4 without using oil. Powder all ingredients. Remove the powder to a little bowl add 2-3tbsp of water and make a paste. Leave it aside
Vegetables :
Onion-1big chopped into 1/2" pieces
Tomato-3 chopped into 1" pieces
Oil-1tsp
Curry leaves
Turmeric powder
Mustard seeds -1/2 tsp
1.Heat oil in a shallow pan, when it is hot add mustard seeds let it splutter. Now add turmeric powder and stir.
2.Add remaining ingredients; onion, tomato and curry leaves. Cover and cook till onion and tomato are cooked.
3.Switch off the stove and add the paste you made above and give a good stir. Turn on the stove again and let it boil.
4.Check the flavors and adjust them accordingly using jaggery or salt. Serve hot with rava/rave rotis.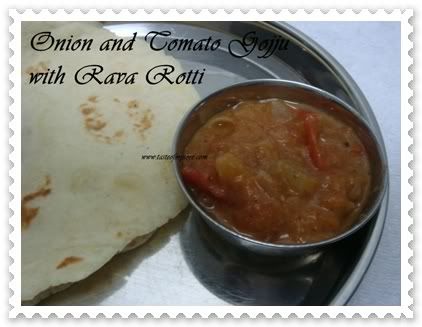 Onion Tomato gojju goes to
Srivalli
who is having curry mela event on her blog
You may want to take a look at
Layered Pudding
with cinnamon infused pineapple juice and
Vegetarian Fried Rice
on
Cooking Station.
.do drop by and enjoy them too..