There are childhood memories associated with this pudding. Chikkamma (mom's sister) made them for us when we visited ajji tatha (grand parents) for holidays. 2.5 decades back..having a refrigerator was a big deal for middle class families. They were not affordable and was considered fancy rather than necessity. My grandparents owned a JOY ice cream shop and refrigerator was a must have at the shop. At night aunt would make jelly dessert or pudding and put them in the freezer and thaw them next day morning for our breakfast. This was our favorite dessert of childhood times few others were Marie biscuit jelly sandwich biscuit, fruit and jelly pudding, glass halwa (agar agar halwa) ..Namratha has this simple and delicious halwa, do take a look at the edible glass
here
Coming back to layered pudding, it consists of layers of fruit cake and fruits alternatively piled up and then refrigerated for 8-10 hours before it is served (read as hogged)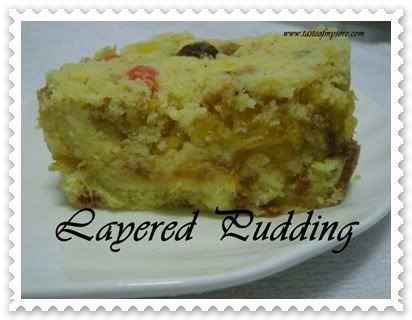 Here is what you need to make layered pudding :
Fruit cake : 250g (store bought..I am a pathetic baker :( .......)
Pineapple pieces : 1cup
Mango Pieces : 1 cup
Banana Pieces: 1cup
Cinnamon Powder : 1/2tsp
1. tear the cake to make crumbs. Keep it aside.
2. Chop pineapple into very small pieces and take them in a small sauce pan. add 5tbsp of water and 1tbsp sugar to it. Bring it to boil on a low heat. Let pineapple cook for 1-2 mins. Drain away the water and store it. Separated pineapple pieces gets into pudding making.
3. Cut mango and then banana into very small pieces.
4. Assemble everything in a cake tin/pan
5. Spread cake crumbs and press them down tightly to make a nice thick surface. Then layer bananas (cut bananas last and line them up first so they would not turn black)
6. Pack another layer of cake, this can be a thinner one, next is mango, another layer of cake, now comes the layer of pineapple. Finally finish off with yet another thick layer of cake crumbs and press them down tight.
7. Mix cinnamon powder with reserved juice of pineapple and spread the juice evenly over the top layer of the cake...you are infusing the pudding with pineapple juice..
8.Put it in the refrigerator for next 7-8 hours. Remove the vessel and cut them into sqaures and serve. A dollop of ice cream will make it even more merrier dessert :D for your children and yourself.
TIP: to pack the layers tightly, press down let it be compactly packed..