http://www.monsoonspice.com/2008/07/announcing-jfi-aug-08.html
A simple fried rice with loads of vegetables and nice to eat ...adapted to Indian taste from a Chinese recipe :D
You need the following :
Carrot : 1/2 Juliened
Capsicum: 1 Julienned
Onion: 1 Julienned
Peas: 1/2 cup Julienned
Baby Corn : 6-7 Julienned (cut into thin strips)
Sauce Mix :
Soya Sauce : 2t bsp
Vegetarian Oyester Sauce : 1tsp
Tomato Sauce : 1tbsp
Maggi Masala Chili Sauce : 1tsp
Salt
Rice : 1 cup
Oil
Method:
Cook rice grains apart.
Sautee all vegetables in oil till they are fork tender.
Add sauce mix, and give a stir let it warm a bit.
Add cooked rice and mix, your delicious chindian rice is ready for dinner. We ate with onion tomato raita. You can have it with any other accompaniment like Manchurian.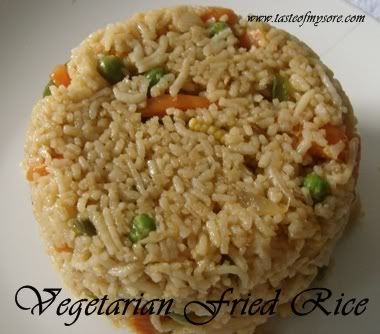 This bowl of rice will participate in JFI-Soya started by Indira of
Mahanandi
and host of the event is Sia of
Monsoon Spice
.