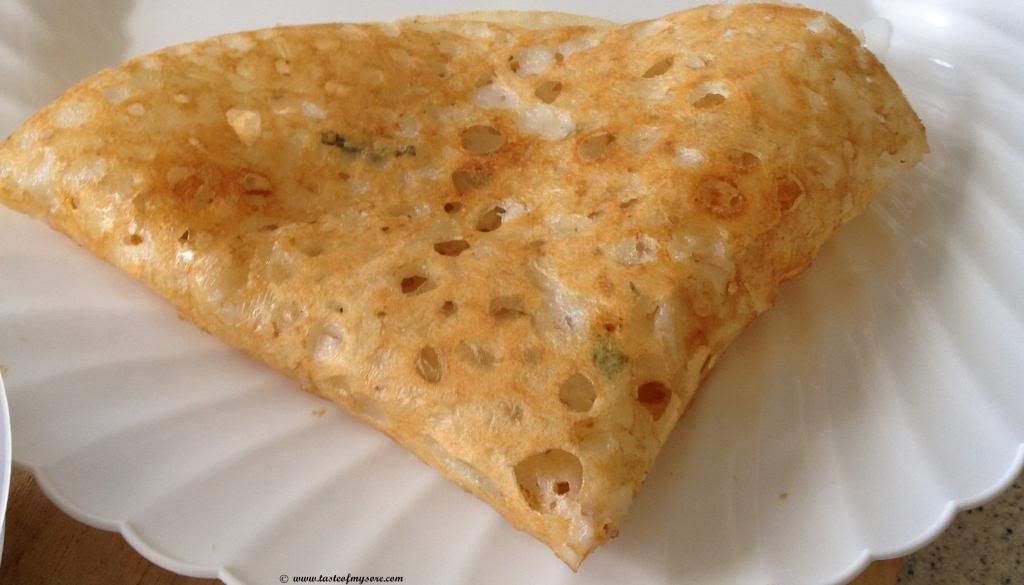 A new version is available here -
Rava Dosa
Yet another quick to make breakfast is Rave Dose/Semolina crepes. You must have tasted it at umpteen number of Indian hotels/restaurants. Rava Onion, Rava Masala, Rava Dosa....the base for everything is Rave Dosa batter. Chutney goes well with it and a cup of bisi bisi (hot hot) filter coffee at the end rounds up our breakfast. Here you go with the recipe for simple Rave Dose.
Rave Dose/Semolina Crepe
Chiroti Rava/Cream of Wheat - 1 cup (any other rava would do..if you have chiroti rava it is best!)
Rice Flour - 1 Cup
Maida / All Purpose Flour-1 cup
Jeerige/Cumin - 1tsp
finely chopped - coriander -1tbsp
finely chopped curry leaves -1tsp
grated carrot - 1tbsp (optional)
Whole black pepper - 1tsp (optional)
Chopped green chillies cut in rounds - 1tsp (optional)
Salt
Water -4cups
I have not used pepper and chillies as my little one finds it very difficult to eat. You can add them. I do not like grated carrot in rava dosa.
Method:
Mix all the three flours with salt, curry leaves and coriander leaves in 2 cups of water without any lumps. Add 2 more cups and mix the batter well. Leave this aside for 5-8 mins before you start making dosas.
Heat a girdle and rub little oil on it. Mix the batter thoroughly and laddle the batter. Pour it over the hot girdle by keeping the laddle/Spoon atleast 7-8 cm above the girdle. Pour the batter in a circular motion. Oil the surface of the dose/crepe. Let it brown at the bottom, remove with the spatula and turn it over. Leave it for 3-4 seconds and remove it to a serving plate. These doses/crepes are very lacy, thin and crisp to eat.
A detailed chutney procedure can be found
here
on TOM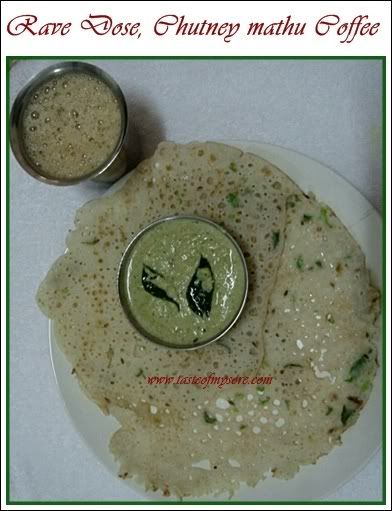 Sending this plate to Sheetal of My Kitchen for her
SWC-Karnataka Cuisine
Thanks Priyanka for reminding me about WBB, this also goes to
WBB-Combibreakfast
hosted by Latha of Masla Magic