Bele Saaru is a simple lentil soup which is tangy and just nice to drink as such or even eat with plain rice. Bele Saaru and Plain Rice is a comfort food for us. It is offered under the name of Mysore Rasam in few Indian Eating places which I came to know after I landed in Singapore..Mysore masala dosa, mysore paper dosa, mysore rasam...so many popular items on menu with 'special' tag to them.. never knew Mysore was famous for these dishes other than it's
Mysore Dasara/jamboo savari
and beautiful
Mysore silk sarees
. ;)
BELE SAARU

You need the following:

Togari Bele/Split Pigeon Peas/Toor Dal-1 fistful
Tomato - 1
Grated Fresh Coconut - 1bsp
Turmeric - 1big pinch
Curry Leaves - 1 line
Coriander Leaves - 2tbsp (chopped)
Saarina pudi/Rasam Pudi - 1bsp
Tamarind paste 1tbsp
Salt and a little jaggery to adjust flavor

Tampering :
1tsp Ghee/Oil, 1/2 tsp Mustard, 1red chilli broken into pieces, Asafoetida/hing one big pinch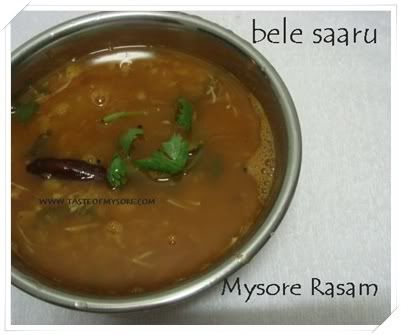 Procedure:


Add enough water and cook Bele/Dal with tomato and turmeric in pressure cooker. Mash dal and tomato using a hand blender(for 1second) or with the back of the spoon. Do not puree it, just a coarse blend is enough.
Add tamarind juice, Salt, Saarina pudi, grated coconut and let it rest for few minutes till you prepare tampering for saaru.
In separate vessel take ghee/oil and heat it. When it is hot add mustard seeds. Let it splutter. Finish tampering by adding broken red chillies and curry leaves followed by asafoetida. Immediately after adding asafoetida pour the bele+tamarind juice mixture into the vessel. Bring it to boil. Check salt and adjust flavors using jaggery or any required ingredient. Switch off the gas and add coriander leaves and let it rest for 5-8 mins before you serve it with plain rice.



This month we are feasting on Karnataka Cuisine through SWC-Karnataka hosted by Sheetal of
MY KITCHEN
Do not forget to send in your tasty Karnataka style food to Sheetal.
Few details of SWC-Karnataka..
Please send an e-mail of your entries to anisheetu(at)gmail(dot)com before 31st August
* Subject line: SWC Karnataka
*Your name
*Blog name
*Dish name
*URL to the post
*A picture of the dish (300x300 pixel)
4. Non blogger can e-mail me the recipe and the picture and I will be glad to include it in the round up. International bloggers also welcome.

This is my first entry for SWC-Karnataka.